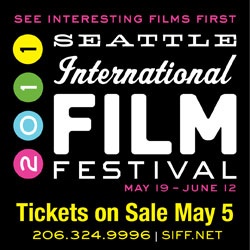 That's a wrap! The 37th Seattle International Film Festival concluded Sunday, 6/12/2011 with a screening of Life in a Day and a rockin' Closing Night Gala.
This year there were over 450 feature films, shorts, and events – all crammed into 4 weeks of awesomeness – and TIG's SIFF Team covered as much as possible. We brought you our favorite picks, recommended events (including some exciting Face the Music programs), interviews, and more as we navigated the festival's cinematic landscape for the best of the best – and don't worry, we'll keep this page up for reference so you can remember what we loved – and didn't so much.
Until next year – viva la SIFF!
SIFF 2011 Wrap-up: 10 Favorites
Previews & Reviews:
Recommended SIFF: Closing Night Gala
Recommended SIFF: Proof that sci-fi and emotional drama are NOT mutually exclusive
Recommended SIFF: Saigon Electric
Recommended SIFF: Treatment (aka Sean Nelson directs!)
Recommended SIFF: The Whisperer in Darkness
SIFF Preview: Shut Up Little Man! An Audio Misadventure
SIFF Opening Weekend Highlights
SIFF Closing Weekend Highlights
SIFF Double Take: Detective Dee & Marrow
SIFF Double Take: Tornado Alley & the Benghali Detective
SIFF Take: 12 Paces Without a Head
SIFF Take: Karate Robo-Zarborgar
SIFF Take: Poupoupidiou (Nobody Else but You)
SIFF Take: Surrogate Valentine
SIFF Take: The Village of Shadows