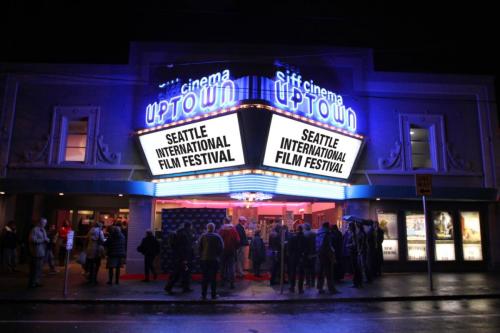 The 39th Seattle International Film Festival is officially over! *sad face* When SIFF announced that the Opening Night film was Joss Whedon's Much Ado About Nothing, my fangirl brain exploded all over the place. (Opening night tickets sold out in about 6! hours! Seattle LOVES Joss.) It was a dream for TIG to be able to be there on the red carpet, capturing the Whedonverse on film, live-tweeting the arrivals, and getting to enjoy Joss' take on Much Ado.
Our imaginary film-loving team of Embracey, Imaginary Rich, Roxie Rider, had a ton of fun rocking THE BEST SIFF YEAR EVER, bringing you news on all the shiny goodness, from shorts to features and special events. We even still have a few things coming — like more interviews! (Interviews are hard to transcribe, you guys. Seriously) And a few more photos. YAY!
But for the most part, we said goodbye to SIFF 2013 on Sunday, June 9 at the Closing Night Gala with Sofia Coppola's The Bling Ring, and a couple of shots of Sparkle Donkey (yes. that's the name) tequila! Read about everything we saw below!
Until next year, SIFF. We ♥ you!
Best of SIFF 2013: Now Screening at the Uptown
Interviews:
SIFF Interview: Teddy Bears (part 1) – Directors Thomas Beatty and Rebecca Fishman
SIFF Interview: Teddy Bears (part 2) – Cast Members David Krumholtz, Melanie Lynskey, Gillian Jacobs, & Zachary Knighton
Imaginary Interview: Much Ado about Nathan Fillion & Clark Gregg
Imaginary Interview: The Bling Ring's Katie Chang & Israel Broussard
Photos:
Photo Essay: SIFF Opening Night – Whedonverse meets SIFFverse
Photo Essay: SIFF Renton Opening Night – Lynn Shelton's Touchy Feely
Photo Essay: SIFF Roc Doc Red Carpets – The Punk Singer & Her Aim is True
Photo Essay: SIFF hip-hop documentary The Otherside Premiere
Photo Essay: SIFF Closing Night – Sofia Coppola's The Bling Ring
Previews & Reviews:
Are you SIFFcurious? Festival madness kicks off soon!
SIFF 2013 Preview: Face the Music
SIFF 2013 Preview: NW Connections
SIFF Review: Fateful Findings
SIFF Review: The Punk Singer
SIFF Review: The Otherside
SIFF Review: Ludwig II
SIFF Review: Short Stories
SIFF Review: Jump
SIFF Take: Frances Ha
SIFF Take: Big Star: Nothing Can Hurt Me
SIFF Take: Peaches Does Herself
SIFF Takes: ShortsFest Family Picture Show
SIFF Take: Mutual Friends
SIFF Take: Computer Chess
SIFF Take: Teddy Bears
SIFF Take: Short Term 12
SIFF Take: The Girl with Nine Wigs
SIFF Take: 9 Full Moons
SIFF Take: Putzel
SIFF Take: Wish You Were Here
SIFF Take: Cockneys Vs. Zombies
Recommended SIFF:
Recommended SIFF + Ticket Giveaway: Mistaken for Strangers
Recommended SIFF + Ticket Giveaway: The Punk Singer
Recommended SIFF + Ticket Giveaway: I Used to Be Darker
Weekly Hits & Misses:
SIFF 2013 Week One Highlights
SIFF 2013 Week Two Highlights
SIFF 2013 Week Three Highlights
Weekend Reccomendations:
Imaginary Rich's Reccomendations for SIFF Weekend #2
SIFF 2013: Closing Weekend Highlights
Archival Presentations:
SIFF Archival Presentation: Safety Last!