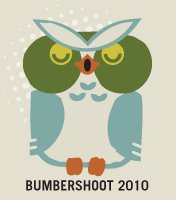 Bumbershoot is choosing a very elegant yet fun way to throw itself a 40th birthday party (!) this Wednesday, September 1.
Kurt B. Reighley, KEXP DJ and author of the just-released extensive tome on all things roots-rowdy, United States of Americana, is hosting this party and ice cream social at Teatro ZinZanni. It's all about crafting up your own noggin-cover, and bringing it down to be judged by Evening Magazine, the hosts of The Marty Reimer Show, and Mr. Reighley himself (who gives a lot of coverage to crafting and homemade creativity in his new book too).
Here are the instructions:
Make yourself the most fabulous birthday hat ever, befitting the Bumbershoot tradition of music, art and spectacle! Don your crowning glory and head on down next Wednesday (September 1) for the celebration inside Teatro ZinZanni's spiegeltent. Homemade birthday hats will be judged in three categories we hope inspire you:
+Hat Most Likely To Start A Spontaneous Dance Party
+Most Bumberiffic
+Best Use of the Number "40″
Hat-donning party goers will receive free Bumbershoot cupcakes courtesy of Trophy, and Bumber-berry flavored ice cream from Molly Moon's. Then there will be the presentation of the current Teatro ZinZanni production, Hearts On Fire. (Note: No dinner will be served that night, as it will be focused on the show.)
More details:
Date: Wednesday, September 1
Pre-Selection Period: 4:30 – 5:30 PM
Fashion Show & Judging: 5:30 – 6:30 PM
Hearts On Fire Dress Rehearsal*: 6:50 – 10:30 PM
Place: Teatro ZinZanni, located at 222 Mercer Street
Cost: FREE
How to Participate
Design your own birthday hat to compete in one of the following categories: 1) Hat Most Likely To Start A Spontaneous Dance Party, 2) Most Bumberiffic and 3) Best Use of the Number "40." Show up, mingle during the ice cream social so the judges can get a good look at your hat, and wait to be judged!
Prizes
Each category winner will take home a pair of Standard Tickets. One additional winner will be crowned "Best In Show" and take home a pair of Gold Passes! All tickets are for this year's Bumbershoot.