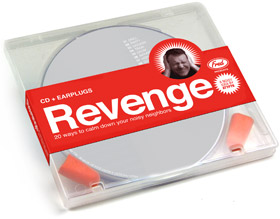 In college, I had upstairs neighbors who would throw thrashing parties every Thursday night that ended at 4am. This was unfortunate because I had an 8am class on Friday mornings. After a couple weeks of this, before I left on Friday morning for class, I would lay my stereo speakers on their backs and play the most horrid CD I could find on repeat. Childish, I know. Hey, I was 19.
Boy, do I wish I would have had this "revenge" CD.
Tracks include:
1) Drill
2) Party (At Least 200 People)
3) Orgasm (Outstanding)
4) Train
5) Drum (Played by a Child)
6) Inhuman Screams
7) Walking (High Heels)
8) Domestic Squabble
9) Doors Banging
10) Bowling
11) Unhappy Dog
12) Practicing Scales (Violin)
13) Traffic Jam
14) Garbage Truck
15) Newborn
16) Phone Ringing
17) Ball Game
18) Pigeons
19) Spring Cleaning
20) Cock-a-Doodle-Doo!