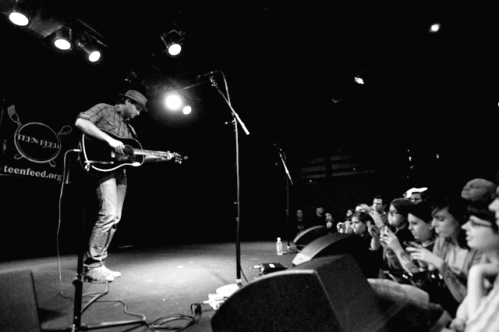 By now, you're heard the reports on Ben Gibbard's show at the Crocodile on Wednesday night: it was pretty much an epic event. The set list killed. The room was packed. Some people liked the hat, some people didn't. Yes, Zooey Deschanel made an appearance at the end. (And yes, it was basically the most adorable thing ever.) Since you've likely already seen the unauthorized video content — the first three rows aren't texting in this photo, they're all taping the night for posterity on their iPhones — and thus heard the details on the new songs (the one about the Smith Tower brought a tear to our respective eye — we can't wait to see if it shows up on the new album!) as well as the Zooey-duets, we'd like to talk to you a little more about the benefit details, and what an amazing success it was.
If you'll notice there in the background, you'll see the Teen Feed banner — that's the organization that Ben's performance was a benefit for, and at last count, the ticket and merch sales brought in over ten thousand dollars that went directly to the organization. Ten thousand dollars! To put that into scale, the Noise for the Needy benefits that ran for Teen Feed earlier this year wound up netting them twenty-five thousand dollars — and with that amount of money, Teen Feed was able to go from feeding youth six nights a week to seven nights a week, meaning they could literally function three hundred and sixty-five nights a year. So, on the scale of operating an organization, while ten thousand dollars might seem like a drop in the bucket, the folks over at Teen Feed are able to take funding in that amount and basically turn it into absolute above-and-beyond amazingness. In fact, we're convinced that Megan Gibbard is made out of magic.
We couldn't be happier to spread the news about this, and to congratulate everyone involved in the night for a job well done. To top it off, we're mega-excited to announce that we will be partnering with Teen Feed for a series of benefit shows in the coming year, the first of which is our Imaginary Office Party at Columbia City Theater on December 16th — you'll want to save that date, because we've got a special guest coming that's going to knock your socks off! And before the rumors start — no, it's not anyone in Death Cab for Cutie… but just trust us. It's going to be killer.
Let your fingers do the walking, and learn more about Teen Feed and Noise for the Needy and the fine folks over at the Crocodile and Death Cab for Cutie camps. If you're interested in getting involved in events like this down the line, please contact them through their sites directly, or drop us a message and let us know! In the world of fundraising, the work is never done and they need all the help they can get. We're just so glad we got to play a little role in such a fantastic night.