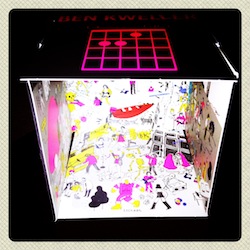 Ben Kweller's been a little off my radar. I mainly know about him via a mix given to me that contained "Wasted and Ready," which is a fine song. He's definitely someone I've been interested in, but I'm better at keeping up with movies than I am with music — and so my awareness of Mr. Kweller faded into the background. Until now.
His new album Go Fly a Kite has been rocking my world since I picked it up this weekend on RSD and I seriously LOVE IT you guys. It's packed with power-pop goodness and great lyrics (take a listen to opening track "Mean to Me" below), and bonus! The box transforms into a diorama!!! Look at it. It's covered in super-neat illustrations by Josh Cochran and it's blacklight-friendly!
And so — this guy's live show kind of snuck on me, because it's this Saturday at Neumos. And I bet it's going to be awesome. Kweller is playing with Sleeper Agent, which upon a brief listen, seems like the perfect match. I'm diggin' their fun, jumpy pop vibe. More importantly: this show is all ages AND 21+, so you can bring some underage music fans with you.
{Ben Kweller with Sleeper Agent | Neumos | Saturday 4/28 | Doors at 7pm | $16 ADV at Moe Bar or etix.com | 21+ Main Floor, All Ages Balcony}