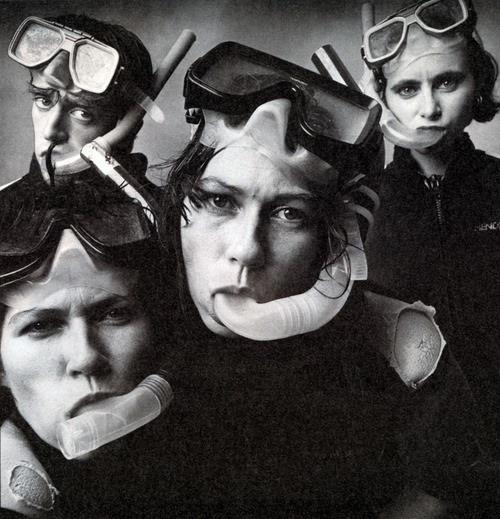 By day 2 of Bumbershoot, I'm sure I'll be utilizing my water privileges liberally, and opting for lots of layers since it looks like the weather is gonna do that sun/cloud/possibly rain thing. If all else fails, I'll retreat to The Center House (I WILL NEVER CALL IT THE ARMORY PEOPLE) and take solace in the miracle that is the Skillet Kale Caesar w/fried chicken thigh.
Sunday, Sunday, Sunday (9/1) — I'm headed for:
The Breeders
8pm-9pm
TuneIn Stage (Fisher Green)
Oh, you were probably expecting that I'd put DCFC at the top of this list, but SURPRISE! They're NOT EVEN ON HERE (preparing for rotten fruit assault). Nope. My most thrilling show of the day, shit, maybe even the weekend! is The Motherfucking Breeders. "Cannonball" is one of those songs that I will never, ever, never ever, neverever get tired of. Kim and Kelley Deal + the 20th Anniversary of Last Splash? Hell to the yeah, I'm excited!
The Redwood Plan
12:15pm-1pm
Fountain Lawn Stage
You know all us imaginary girls are big fans of Ms. Lesli Wood, so I am getting myself over to the Fountain Lawn once again to hear her and The Redwood Plan belt out some rockin' pop tunes. We love you, Lesli!!!
Katie Kate!!!
4:30pm-5:30pm
TuneIn Stage (Fisher Green)
Sorry, fans of Charli XCX, we got an email this week saying that Katie Kate was replacing her because she couldn't make it! OKAY I'M NOT REALLY SORRY BECAUSE I LOVE KATIE KATE SO MUCH IT'S RIDICULOUS. Last year she made the whole crowd dance like crazy AND she covered a Kate Bush song AND she threw a "motherfucking tote bag" out and my boyfriend got it and it was the perfect birthday present. I mean, come on. This girl is amazing! Whenever I'm blue, I crank up some Katie Kate and everything is all fixed.
Mates of State
5:15pm-6:15pm
Fountain Lawn Stage
OR
The Comettes
5pm-6pm
Plaza Stage
Oh man. What a choice! I love me some Mates of State harmonies and sad, yet bouncy, synth-pop, but I also LOVE what I've been hearing from retro-cool newcomers The Comettes! So I might have to split the difference and see them both … assuming I can book across the Center fast enough. (RUNNN AMMIEEEEE! RUNNNNNN!!!!!!)
Bob Mould
6:15pm-7:15pm
TuneIn Stage (Fisher Green)
Um. Of course I'm going to see Bob Mould. Are you kidding me? Not that I need any other excuse to see him than his Husker Du roots, but this video for "Star Machine" showcases how rad this guy is, all around. ROCK IT OUT, BOB. I SURE DO LIKE YOU.
{Day two's live tweets will likely include a lot of swearing about the ever-changing weather, slow-walkers, and bruises sustained from slipping on greasy, discarded food wrappers. Follow me: @posiegirl — and/or the @3imaginarygirls for all the awesomeness}