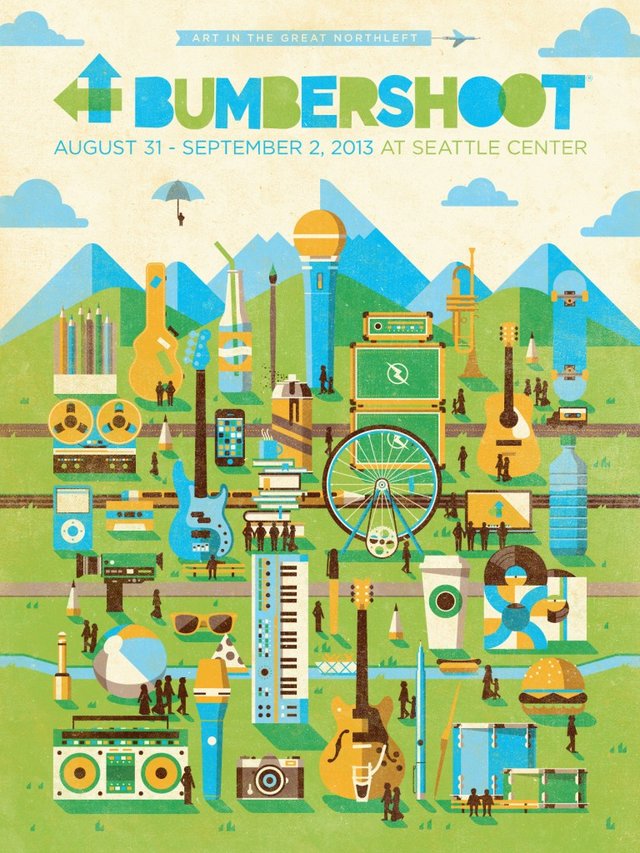 I am going to tell you what I know about this year's Bumbershoot line up for its full three days — fortunately, it's a great year and there's almost too much to chat about! Thus, I'll be breaking it down in parts. And I know a little bit about a lot of things, and parts of things (I keep them in my drawers). But there are some other things that I don't know that much about so will either leave them out… or, take completely random and perhaps inappropriate wild-ass swings at previewing them! So, without further ado:
Things I wanna wanna do on Saturday, 8/31:
Dave B (12:30 p.m., Fountain Lawn Stage)
Sometimes a fella or boo just wants to jam it. Doesn't want to hear about the economy, doesn't want to hear a bunch of threats or emotional larceny, doesn't need some drizzling "profound" sound effects in ponderous drip-hop mode, but merely wants to hit the beach or dance on the bleachers at a sports afterparty. Bumbershoot kicks out with recent Sound Off! wildcard winner Dave B, who didn't hit me when I first heard him a while back. But then he slayed us all sweetly at the Capitol Hill Block Party (his happily pureandtrue hip-hop set was a high point), and I'm primed for this live flesh follow up of his freshness. Gotta get his long-been-out The Coffee EP pronto.
Mike Vecchione and Marc Maron (1 p.m., Comedy at the Playhouse)
Always take in a Marc Maron joint. He can be as nasty as he wants to be and still plays nice with others. I probably don't have to hype this too much, and Marc performs throughout the festival, this is just the first shot and I thought I'd mention it. He reminds me of my father-in-law if the dude was as well-read and more neurotic like me, which I guess says a lot about my wife. Anyways, when you think of Marc Maron, think of Californication if it starred a comedian.
Nacho Picasso (1:15, TuneIn Stage)
XXL and Vibe love him now, but that's not why you need to get involved. There's a Cubist antagonism to NP's rants, tucked inside a city at the end of an all night rampage epilogue feel. It's dark, it's art, it's trap, and for regional rap it seems neither grotesquely falsely humble or hive-minded deluded about who's really cutting the checks and getting the minstrel spotlight.
Down North (2 p.m., Plaza Stage)
One of the most underrated bands in the Pacific NW, Down North is tough enough to be jam-it Afro-punk, stylish enough to buy your lady a drink with a smile you just gotta forgive, soulful enough to bring the spirit of Michael Jackson into your neighborhood church, and born to make you bounce into the crowd. What I love about them the most is that I could totally see them kicking ass in an East Coast club between sets of no wave bands and noise units, bringing the heat and the heart to the art school scene. Yes, they're that smart and that on fire.
Seattle Arts & Lectures presents The Lunchbox Project Live: Literary Pleasures and Musical Shenanigans (4 p.m., Words & Ideas Stage) vs. Kendrick Lamar (same time, Mainstage)
Okay, because I was obsessed with DMX too I will probably be at Kendrick to hear more and say I was there. I hear he was part of someone else's song and apparently named some names, something that never, ever happens in rap! Otherwise, if Down North drenched me in dance sweat, I will be seeing a bunch of word scribblers yammer about stuff I'm into while it's still light out.
How Was Your Week? with guest Ted Leo (4:45 p.m., Comedy at the Bagley)
Ted Leo is a man I really want to see interviewed live, and this podcast conducts great interviews. Ted Leo. Damn! So many things I want to ask him. I might take this one over, wrestling the mic from Julie Klausner (nah, I'm sure she'll do fine. But if there's a chance for audience questions, be ready lady!)
The Physics (5:15 p.m., Fountain Lawn Stage)
Keep up with The Physics. That's what they say. They slyly subvert a lot of their contemporaries with lyrical surprises, nuanced rhythms, and choice samples. It's been "next big thing" yap for years but it really should happen.
Fantagraphics Follies (6 p.m., Words & Ideas Stage)
One-time maniacal punk music manager and now publishing maven Larry Reid hosts this roiling ode to the mightiest publisher alive, with talents like sublime graphic novelist Ellen Forney (Marbles, The Stranger), completely mesmerizing fine artist Jim Woodring (Jim and Frank and many other books), indie comics comedian Kelly Froh, and others entertaining us in weird and wonderful ways. Special happenings: Can You Imagine? plays! That's right, that girl group from comix-punk heaven lights down to light up the Words & Ideas stage! (Fantagraphics' own Peter Bagge plays drums for this sweetness.) This one will be packed out. Get in line on Friday, champs.
Weird & Awesome with Emmett Montgomery (7:00 p.m., Theatre Puget Sound Stage)
Emmett loves the strange, and wallows around in it with us comedically, but it's his humanistic touch, his gentle heart, his mindful awe that keeps his entertainments from seeming like a mere freak show. He always puts out a positive vibe even when things get Hunter Thompson-level "professional" (i.e., bonkers).
Gary Numan, (8 p.m., TuneIn Stage)
You might not believe this, if you only know him from his hits, but Gary is killer live. Yeah, I know, sometimes synth-based artists aren't that inspiring, just standing there singing like robots as they push some buttons. Gary was a rocker first, and has cultivated an impressive following of fans who have been buying his albums whenever he cares to release them, and bone up on the live boots and such as well. This isn't "new wave exploitation" by Bumbershoot by any means; Gary's a worker, and has been rocking audiences regularly for as long as you've been clapping your hands to that synth-drum beat in "Cars." I can't wait to see him play "Praying To The Aliens" and most especially "Down In The Park" live — the latter song being a common cover by discerning, loving GM fans in bands all over the indie world.
Heart (9:45 p.m., Main Stage)
If you're a Seattle area kid of a good span of ages, you remember when they made the covers of magazines like Rolling Stone, spending many an incense-burning evening in a park listening to Dreamboat Annie etc. on your car stereo, turned up LOUD to seduce the minds of hicks from Eastern Washington. They've always rocked, and we've never not been proud of them. (Everyone gets a pass for 80s shoulder pads these days.) This show will be super powerful for anyone who has never caught Ann and Nancy soulfully putting their wild, witchy, loving talents out there for everyone to soak in. Do it. And for those who have caught 'em a few times as I have, we'll be back in the Black Velvet saddle again.
Places I wanna wanna be on Sunday, 9/1:
Ayron Jones and The Way (12:00 p.m., Starbucks Stage) vs. 15 Years of Barsuk Records
Caveat: My company Big Freak is doing an email blast for Ayron for this show and his new single and full length; I wouldn't hype it here due to ethical considerations, but I've never seen him live, and I really hear he kicks ass! So this is probably what I'll be doing — which I submit in humility as I should have seen him long ago (Megan Seling calls him "insanely talented"). And yet that chatter-fest about Barsuk with the label's Mister Joshua and John Roderick and Sean Nelson and Dave Bazan … now THAT'S a convo!. Rats. When cloning is perfected, the first place they'll be sold at high quality rock festivals like Bumbershoot!
Brian Vogan & His Good Buddies (1:30 p.m., Kids Zone)
This guy's music for kids is great. He's often as talented as Jonathan Richman back when Jonathan wasn't singing about lesbian bars but was more into martian martians. By no means am I going to go to this and sing the lyrics to "Here Comes The Bus" as "Here Come The Drugs" as I never do around my apartment, snickering to myself like a depraved moron.
Why Fan Fiction? Why YA? Why now? (2 p.m., Words & Ideas Stage)
Why indeed? I love contemplating all fandom cultures, and those people who create fan fiction fascinate me. It's amazing how mainstream it's become. Back in the old days at science fiction conventions, fan fictions writers were the only ones without weed, or party rooms, or book contracts.
Dave Bazan vs. Midday Veil (3:30 p.m., Fountain Lawn Stage vs. Plaza Stage)
Choices! Choices! Bazan is ready to mortally bruise my heart with some sobering lament about loss and the ennui of being, whilst Midday Veil want to light me up and spark me out to the outer reaches of blitzed cosmology. Both are arguably post-theological, and will depend on whether I'm feeling numinous-meditative or live-it-up Lovecraftian!
Writing Staff of Parks & Recreation (6 p.m., Words & Ideas Stage)
I predict writing staffs (especially including show runners) will be the next rock stars, not as bold a claim as it seems in these Golden Days of TV. Writing is becoming a very important thing for the best shows, and we're actually starting to follow who writes TV now. Parks & Recreation has such an awesome cast, it probably distracts a bit from how tight and beautiful every script for the show really is.
The Breeders (8 p.m., TuneIn Stage)
After Heart, into the 90s, your pool of coolest chicks ever to watch and listen to and go nuts for would have included this band. They might as well have come from Seattle, as we never could stop loving their grimy, giddy, growling anthems to sensory astonishment, and life in the metaphysical sticks. This will be a smear of love and rage, of shit talk and musical fire, of sisterhood and brother voodoo.
Death Cab For Cutie (9:45 p.m., Mainstage)
First time I ever heard DCFC was at a local record label where everyone hovering around a certain age was blasting it out of their boombalaboxes and stereophones (what the kids had to play music on back in razzamatazzles '99). So I knew these Bellingham boys were going to be popular! Did I know that they would record Transatlanticism, the Night Moves out of all the groups from the mainframe Spice Girl-flavored frozen-yogurt years? Why, hell no! I'm no meter maid. That wouldn't happen till the mid-Rottens, and it would pack live music compounds full of Republican house-flippers and wizened yet still slightly weepy emo gals alike for raising their iPods above theirs heads in a butaneless tribute to a ghost called grandpa arena rock. Here at Bumbershoot they do it again, playing the whole goddamn thing, when I've never actually finished listening to it in the first place yet (it was a rough decade).
At this point, I will remind those grumpwumpuses who what get angry about bands playing their "classic" long-players all the way through that there is nothing wrong with that — an album should be a singular experience, and it can be reflected in a live setting. Long-time DCFC fans should love it.
Monday recs are on the way, kids. See you at Seattle Center!