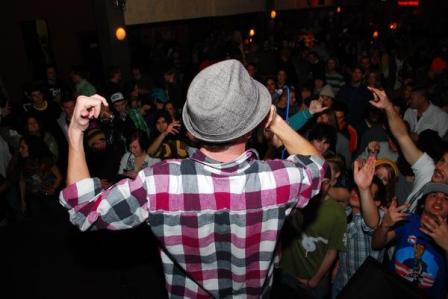 I've seen Macklemore perform exactly one time, and I loved it so much that I want to see him again and again. This Seattle (now living in Olympia) rapper is more than just a Hip Hop artist – in fact, his MySpace lists him as Hip Hop | Western Swing | 2-Step , which made me giggle quite a bit. He's a political satirist, entertaining blogger, and pop culture junkie.
In addition to turning out some killer tunes, Macklemore has been known to don a stars and stripes hat, acid-washed jean jacket and mullet wig on stage to poke fun at stereotypical Americans (reminiscent of Trey Parker's "America, Fuck Yeah" song in Team America: World Police). And honestly, that's when I find him most entertaining.
Listen to "The Bush Song" for more parody – but be warned, if you're a Bush fan (???) you're not gonna like it:
[Video:http://www.youtube.com/watch?v=pk7lFRtndqA]
And then take a listen to the stuff on his MySpace page – every single song is catchy, smart, and just awesome as hell. I'm highly recommending you check this show out!
{Macklemore plays Bumbershoot Monday, September 7, on the Fisher Green Stage at 12:45pm. Photo taken from MySpace.}