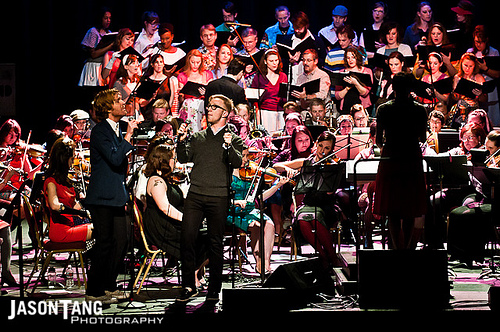 Campfire OK photo by Jason Tang
Campfire OK seemed to come out of nowhere with an incredibly well played and passionate debut earlier this winter, Strange Like We Are. Its title track and others have been spun quite a bit on KEXP, the band has been given lots of attention by bloggers (most notably NPR, which did a feature on their excellent music and the meaning of the first album's intriguingly anthemic title track).
They are set to play Sunday, July 24 at the Block Party, at Neumos (21+), between 4:15 and 4:45 p.m. I email-spoke with the mysterious frontman and primary songwriter for Campfire OK, and we got all happily tangled together in the cyber-vines. He straightened out the bacon wrapped around the enigmas of their line-ups, college campus banning, and the meaning behind that darned catchy tune again. Imagine how much fun it will be when I get to chat with him in person at CHBP 2011!
TIG: As a noted "Capitol Hill band" is it a particular thrill to be playing the Block Party this year? Or is it more like just back porch fun for you at this point?
Mychal: We are all very excited, and feel honored to play the Block Party. Even though I live on Capitol Hill it definitely does not feel like back porch fun.  It is one of those things that, when you first book the show, you are happy about it. Then as time passes, and you see how large of a number of people go to it, read about it, and research the bands playing, you feel more and more grateful. We are super pumped to be doing it.
This is Mychal Goodweather, right? Are you ready to reveal the name of your drummer brother, who helped you record the vocals, bass, drums, and piano for your first album Strange Like We Are? And what's the connection to Seattle University — why were you banned there? is that just a rumor?
MG: Kinda, My name is actually Mychal Benjamin Cohen. The whole "Goodweather" thing started as a way to keep myself more private on Facebook, and as a joke with a good friend of mine. So: Yes, I answer to Goodweather but that is not my name. There were two different people who played drums on Strange Like We Are. The first is David Stern, and the second is Don Gunn. David was a drummer and did not help with any of the vocals, bass, or other stuff. Don Gunn was actually our engineer on the record. He is an amazing engineer and drummer.
Oh Seattle University! I actually was banned from the campus. It is not just a rumor. I live just two blocks from SU in a four-plex. I also wake up super early and most of my creative juices flow within the first couple hours of being awake. Playing piano at 8 am when your neighbor went to bed just four hours earlier is a pretty crappy thing to do, so I would go to the practice rooms at SU really early and write my songs. To make a pretty long story short, one day, as I was playing (even though I had been doing so for a year)  three campus police officers started pounding on the door in pure fury. They tried to nail me on trespassing, but couldn't do so because the only reason I got in to the rooms to begin with, was because I would ask the front desk in the music building for the codes to get in to the rooms, to which they would give me. WITHOUT ASKING ME FOR IDENTIFICATION. So they banned me from campus for a year. In that year I got a gym membership to their gym which I frequented. Silly guys.
Now can you finally say who else was involved with all those banjos, horns, claps, and strings? If you'd rather not, can you tell me which last name plays what — especially for the upcoming 2011 Block Party performance?
MG: Ha ha! Yes, I can say who else was involved with all that stuff. For half of the album, I was pretty much the person who did all the banjo, claps, organ parts, and backup vocals. Andrew Hanigan Eckes played all the trumpet parts, and the other half of the banjo parts. Andrew Vaughan from the band now called Holy Names played a little trumpet also. Garett from KOKO and The Sweatmeats did a bunch of backup vocals and some acoustic guitar.  Mike Squires from Duff McKagan's Loaded helped produce and played some bass also.
As for CHBP, we will have everyone that has been playing in the band since the album was released which is as follows:  Brandon Milner on Drums, Melodie Knight on Tambo and Vocals, Myself on Piano, Guitar and Vocals, Scott Teske on Bass, and Mr. Andrew Hanigan Eckes on Banjo and Trumpet. We also have a surprise guest appearance.

Will this be another thrilling set based on the debut that we've seen you play out in the past year, or are there some new songs or cover medleys (from Don Ho, ZZ Top, Jake Thackray) that you'll be springing on us?
MG: First, thank you for saying our sets are thrilling. That means a lot. Second, we will be covering Lady GaGa, Weezer, and The Beibs.  But really… We are having a very special guest with us during a song, and will most likely do some fun shenanigans.  Also, we are going to dance our asses off.
What have been some highlights of Cap Hill Block Parties you've attended in the past?
MG: My most favorite memory from CHBP is actually from last year when I walked into Neumos to see Champagne Champagne. There was just a special magic about the air in the room. Everyone was dancing, having fun, and even though it was hotter than a Bikram studio there, people loved it.  It is hard to out-highlight people doing what they love with every fiber of their being.
What else besides playing lovely and lively music in your own set (which is on the top of our list to see/hear) will you be checking out? Anyone the band can all agree to see together?
MG: I personally really want to see The Posies, The Cave Singers, Grand Hallway, and Pink Mountaintops. I can pretty much guarantee that everyone in the band wants to see The Posies.  I also really love the pure craziness of getting thousands of people together in a semi-small area, and letting them go bonkers. It is so strange to see what people do. I love people watching, and the Block Party is prime realty for such activities.
Congratulations on the success you've had on that accomplished debut! Did you expect all that?
MG: Thank you very much! That is a funny question to answer because I feel two ways at all times. Let me explain; I firmly believe that any musician that makes an album does it because they think that their music is worthwhile for other people to listen to. It is why we as musicians record our music to start with, so we can show people. That being said, I am very proud of Strange Like We Are. We worked very hard on it.  On the contrary, I most definitely did not expect to get such an amazing response from people. The only thing I expected was to have my friends tell me they liked it, whether they actually did or not. It is the most humbling feeling to have someone you have never met come up to you on the street, or after a show and tell you that they like your music.  Even more so to play in front of so many people. It is honestly the most rewarding thing. I never in a million years expected any of that. Nor will I ever.
If you were telling a distant relative not in the music scene or business what you were happiest about its response, what would you say?
MG: I would say that the happiest thing about its response is the fact that it is allowing me to not work a 9-5 job and keep making more music.
And what would you call your best friend to brag about, knowing you could get away with blowing smoke up your own butt?
MG: God I am gonna sound like an arrogant a-hole for answering this. There are two things. Being NPR's Song Of The Day, cause that made me feel like I was doing something that mattered. And then when Chris Walla told me he knew who my band was. I pretty much pooped myself. I hope he doesn't read this. But seriously, I really respect him and all the Death Cab guys. I think they are genuine class-act people and have made some very good music and very good decisions in their career.
Hey, who taught YOU how to harmonize so beautifully like that? Did you
grow up in a family of singers singing all the time? Did your brother sing with you when you were kids growing up?
MG: You keep complimenting me in your questions and it is making me blush!
I learned to harmonize in college. I was a music major and was in choir. But truthfully I was not very good. I had to practice really really hard to sound anywhere near good.  But I practiced every day, and now It just feels natural to me.  My mother is a vocalist and she always sang to me as a young boy but I never sang with her. Brother? I have a sister but not a brother. It would have been nice to have one though.
NPR wondered about the title track in terms of its lyrics — do you get asked what it means a lot? Is it about the inclusivity of the indie music scene? A celebration of diverse individuality? A call to weirdness? Do you feel weird, Mychal?
MG: I do get asked what it means a lot. I can say that I love peoples songs because they give me ideas, and let me be creative in my thinking. Listening to music is a way for me to escape my silly brain. I try very hard not to tell people what to think about my songs, or what they are about because I would never want to ruin someone's creativity. I will say it is NOT about the inclusivity of the indie music scene. But I could see how one might think that. It is about a celebration of diverse individuality, and it is about a call to weirdness.  But those are just pieces of the bigger picture of what the song is about. It is about a much larger issue that encompasses those things, all placed in a much smaller setting.  Do I feel weird? Oh yes. I sure do. More than you will ever know. But I am sure most people do. Do you feel weird, Chris?
Oh God, yes. I don't ever feel not weird! So thanks for being weird with me. What are you working on now? Tour and next recording-wise? Do I sense some scoring news coming up — as in film soundtracks?
MG: Currently we are working on a couple videos, and some sweet shows. We are also working on a new album which we start tracking in October. How did you get all this gossip?! You seem to imply that you know things about me that I have not told you. Hmmmm…
I know a guy who knows a guy. He's weird too!
MG: Yes, I just finished writing music for a Levi's commercial. The commercial will be shown in theaters across the nation before the new Harry Potter, Spy Kids 3D, and stuff like that.  The music is the "anthem" for a new brand they are releasing. I write music for film and television for a living and feel very lucky to be able to do so.
If people were to throw things on stage to you at the CHBP 2011, what would you suggest they toss up on stage in appreciation?
MG: If I say $100 bills, then I just sound like I'm money grubbing. If I say undies, I sound like a pervert. So please throw love notes. It would make our day.
Thanks, Mychal! Can't wait to hug you at CHBP! Much respect.
Campfire OK photo submitted to our Imaginary Flickr Pool by the amazing Jason Tang.