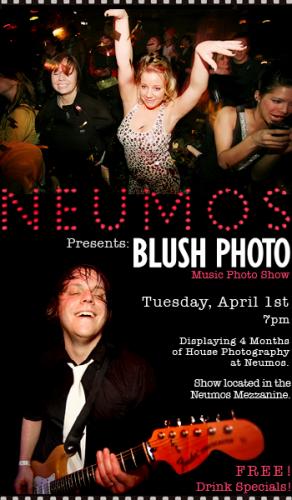 So Imaginary Dana hears I went to the Blush Photo's Music Photo Show opening Tuesday night at Neumos and asks me to blog about it. Trouble is, I don't remember much. Couldn't possibly be due to the three (or four?) drinks I had pre-func at Moe Bar, could it?
Moe Bar, in case you didn't know this already, is where you can order from a short list of Via Tribulani pizzas and not have to be on your good behavior to enjoy it. The Funghi pizza is delicious. Just don't expect those 'shrooms to absorb much alcohol from the generous well drinks ($2 during happy hour). You have been warned. Plan appropriately.
So thinking I am just fine, thank you, and I head upstairs to chat up the house photographer (Kristen Truax, aka Blush Photo) for Neumo's and check out the 15 shots she selected for the show on the mezzanine level. I don't exactly remember the photos. However, I do recall that Kristen Truax is nice-as-pie and I'm pretty sure (hoping?) I was a good guest.
The mounting choice was perfect for the subject matter: photos from live performances at Neumos are printed right to the edge and mounted frameless for a clean presentation. Absolutely ready to sharpen up your office wall and show your Seattle music scene cred. Get 'em while they last.
Also checking out the show were the drummer from Tennis Pro (Sean Lowry) and his wife Tiffany, who is Blush Photo's go-to makeup artist when in need. Sera Cahoone in makeup! For a Sound mag cover. Nice teamwork, girls.
Neumo's booker and part-owner Steven Severin was about as well, showing support and chatting up guests. Turns out we're neighbors. Close neighbors. Very walkable to Neumos. And Chop Suey. Convenient, yes? Seattle gets smaller every day. Honestly. I keep running into people I know, or people who know people I know.
Cheers, Blush Photo! I'll go back in the next couple of weeks and check out those shots again.