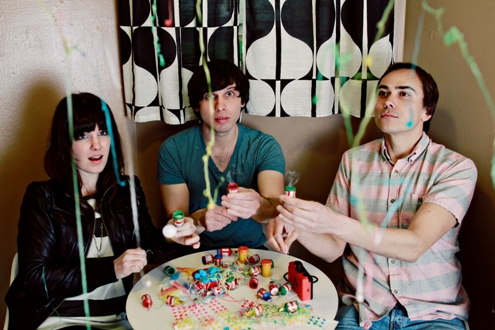 It's the Spring Cleaning Edition of our almost-once-a-month-ly Crafternoon. And you're invited!
If you're not yet familiar, Crafternoons are a chunk of a few hours where we get together, work on crafts, and listen to unreleased / brand new albums while (very politely) taking over a local cafe. This time around we'll be at Porchlight on Capitol Hill on Sunday, May 15th from 1-3p, listening to two of our favorite May 2011 new releases: the debut album of Seattle's very own twee-core trio, Seapony (which doesn't release until May 31st), and the freshly pressed gorgeousness of Okkervil River's I Am Very Far, which drops this Tuesday on Jagjaguwar.
Instead of doing a theme or a craft lesson like we've done in the past, we've decided to make this installment of Crafternooning a Spring Cleaning stylee. Got an unfinished project? If you're anything like us, you've got a whole bucketfull! Bring your knitting needles, a hot glue gun, sewing projects, that macrame plant hanger you never got around to finishing at the holidays — anything and everything counts!
One more time: Rad albums. Renegade crafting. Porchlight Coffee, 1-3p on Saturday, May 15th.
We'll see you there!
{Seapony photo courtesy of Hardly Art.}