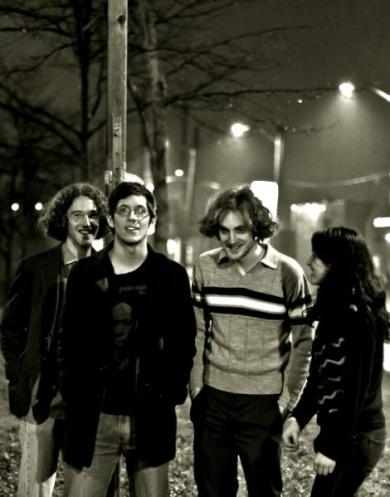 As was reported earlier on this sparkling site, I was one of the judges at this year's Sound Off! battle of the bands at EMP last month. I could write a book about the weird tension at events like these, pitched between melodramatic mainstream rock bands (and their pressuring fans) — and those of us who like the weird, the wild, and the wonderful: like Tomten, the "wild card" draw. They are a foursome who are playing with M. Bison and Annabel Lee Thursday night at the majestic Columbia City Theater, starting at 9 PM. Don't miss them — they will tickle your tea and pour pure joy into a jewel-speckled cup, bowing as they hand it to you.
The great news is that most of my fellow judges at Sound Off! couldn't be bullied by histrionics and impolite competition, but were wholly susceptible to the whip-smart charms of Brian Noyeswatkins (vocals, guitar, organ), Gregg Belisle-Chi (guitar, vocals), Lena Simon (bass, vocals — though regular drummer Jake Brady was absent, and so super amazing Lena handled bass, drums, fetching beers for family, math homework, and all kinds of general amazingness). With all my heart I beg you to go to Columbia City Theater tomorrow night to see that night's winners.
Go, go, go pick up their self-titled indie album, and stick around to see Noyeswatkins pitch woo as if he is in a bed-sit/basement with the audience as if they were his first girlfriend, and he needed both his wit and warm smile to win 'em over. Between the sugary organ chews, the tambourine bashes and lassitude-bent notes, I hear dashes of this and dazzles of that, but seriously, Seattle hasn't had a debut underground pop album this bracing since Dolour's first back in the late '90s. (Not as slick, though, and with oodles more mirth.) The lyrics ignite a caustic optimism and a mocking of gas-lighting hipsters ("The Pleasure is All Yours") and bullies ("Robber Barons") you only get from real bands making music for real music fans (and their record-collecting fellow musicians).
Noyeswatkins is so confidently relaxed with his gifted voice he doesn't try to sound much like anybody, but you buy those classic LPs out of bins at Jive Time and off the wall at Wall of Sound to own the rowdy, randy roots of it. And: "Ciderhound" gets me so fucking thirsty! Like any writer with real potential, Noyeswatkins knows how to "drink to all our debts." This band is like a Seattle slacker Jam, timeless Mod art-pop to the bones! And yes, there are weak moments on the CD, but now they have some Sound Off! dollars (and time) to record, and will hopefully create a real "debut" for the scene to enjoy.
This night is going to rule.