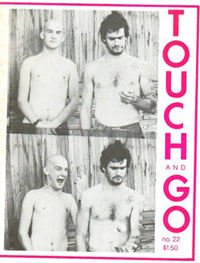 Touch and Go is a long-running, incredible indie label that — like Sub Pop! — started off as a punk-inspired fanzine. Tonight, Friday, April 8, the original cult artist leader behind the small press publication, Tesco Vee, will be having a meet and greet reading at Elliott Bay Bookstore on Cap Hill with his OG hardcore outfit, The Meatmen.
That veteran band of foul-minded scamps will be playing later that night at El Corazon. But for those zine-freaks who like me drooled over the near-600 page republication of the actual inside of T&G issues, Touch And Go: The Complete Hardcore Punk Zine '79-83, the early evening celebration will be a must-attend. The glorious historical tome was put out by Bazillion Points Books last summer, and I hyped it hard over at the KEXP Blog at the end of the year.
As their Facebook tour promo puts it: "For the entire month of April 2011, Tesco will be terrorizing West Coast book and record stores by day, telling the tales of Rollins, MacKaye, Danzig, and the dawn of the hardcore punk; and by night showing grimy punk dives how it's done with full-color four-dimensional performances by Detroit daddies The Meatmen."
The back story is crucial for understanding where alternative-cum-indie rock came from. Even before the dark days of Reagan descended, outcast kids in East Lansing, Michigan were putting together these regular xeroxed editions of a fanzine expressing hopeful if cynical passion for dark, hard American rock and art-torqued British post-punk. The scribing was personal, and sometimes political, and wasn't afraid to confront the local cops, redneck bullies, and extol the values of being weird and sarcastic as hell. Along with The Meatmen, Touch And Go put out grimy, gut-punch records by the Necros, The Fix, and Negative Approach, which tied in with the SST-scene and what would later come lurching and squealing out of the NW as (dare I say it) grunge.
Touch And Go had a great reputation in Seattle as it went from important reading into essential listening, as the aesthetic flexed and the zine and venue underground mingled and expanded through the ensuing, post-hardcore years. Eventually, classic albums by Big Black, The Rollins Band, Scratch Acid, Silkworm, and Blonde Redhead would come from the label that emerged. But also a myriad of other genres and scenes were represented, because as punk rock as Touch and Go had always been, they were record loving and show attending freaks of all kinds of marginalist fun.
Those heady days of self-publication, where acid-tongued seven inch reviews and snickering, snarling scene reports and inside jokes and imported album coverage coalesced into a world every rebellious kid around the world wanted to have a voice in, whether it be as writer or band or promoter or what have you, can be blissfully remembered or learned about at 7 p.m. tonight. Hope to see you there!