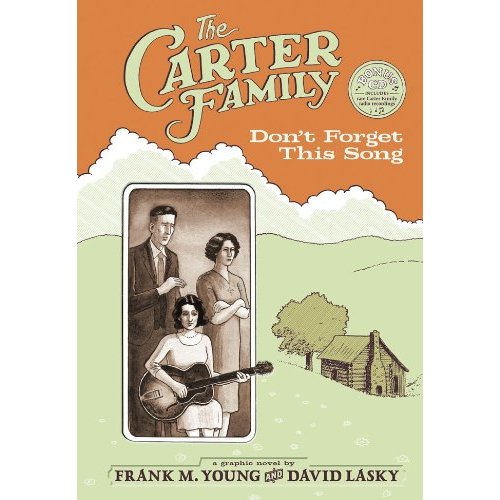 On Monday, October 8 at 7:00 p.m., the Richard Hugo House, writer Frank M. Young, and artist David Lasky will be presenting The Carter Family: The Don't Forget This Song Book Launch Party. Young and Lasky are the creators of this delightfully unique illustrated autobiography about the first superstar family of country music (the one Johnny Cash was thrilled to marry into). They will be joined by fellow richly talented writers and artists Stacey Levine, Kelly Froh, Elissa Washuta and Mark Campos to present a multimedia reading, with musicians Laurel Bliss and Cliff Perry playing Carter Family songs. Plus, the RHH will be showing a video preview of The Winding Stream, a documentary about the Carter Family by Beth Harrington. There will be a dessert buffet (!!!), and copies of the graphic novel will be for sale by Elliott Bay Book Company — live music and treats included for the outrageously low price at the door of $6!
The Carter Family was the birth, life, and death of a lot of music you hold dearest to your heart. If you hear their early-mid 20th century sides, your spirit will be consumed by a near-lost, old-time world of joy, sadness, sin, and salvation. The new graphic novel, The Carter Family: Don't Forget This Song (Abrams ComicArts) is an October release (appropriately, for the autumn and before holiday book-buying), and can you fill you in on the rosetta stone of all your favorite American-fomented country-folk love songs, murder ballads, and spirituals. When family head A.P. Carter and his family sang about trains ("Worried Man Blues") you were on a freaking train, cuz. With all the passion of someone leaving town or coming home, craving change or even death, and planting deep the ever-giving roots for road epics, restless soul rambles, and every other trope in modern rock, twangy or not.
The Carter Family: Don't Forget This Song is the full-length collaboration between author/journalist/editor Young (who is from the American South) and Lasky (from Virginia), both having lived in Seattle through both the 90s alt-country music and alt-comics booms of this region. With their backgrounds and passions, no one else could have crafted a story this sensual, this paradoxical, and this compelling, even though the source material is pure gold. However, as music history so crucial, there have somehow been rare and few attempts to trace its anthropological and artistic necessariness to the C&W, gospel, and early rock scenes utterly indebted to it. Written with nuance and clarity, and lovingly drawn, the extended comic version of the Carter Family saga comes with a compact disc of eleven very rare radio sessions, making its worth far more than its cover price.