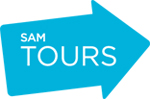 Wait…what? A tour of the Seattle Art Museum with me? That's right, you guys. I'm leading one of SAM's My Favorite Things tours this Friday, June 18 at 6:30pm.
I don't know about being opinionated or fascinating (like the write-up says), but I am a pop culture junkie and I adore Warhol, so maybe you'll learn something, or maybe you can just giggle a lot as I try to explain why I like each piece.
Here's the deal: I'm free with admission! Just meet me at the top of the escalators and I'll drag you around, showing you stuff I like in the main museum, a few things in Kurt, and then ending with the best thing ever: love fear pleasure lust pain glamour death – Andy Warhol Media Works.
And if you're laughing about this, don't worry, so am I!