I had the good fortune of bumping into Shelby Earl a few times in succession earlier this year, first shooting while her in-studio performance at KEXP, and then as a volunteer at 826 Seattle's People Eating and Giving fundraiser at the Triple Door. Having only met Shelby in passing up until that point, I'm happy to report that she is as delightful to work with as she is talented. Last week, we took a minute to catch up about 'Wintersong,' her latest recording effort, and her recent performance with Ben Gibbard at Washington Hall.
So, we'll jump right in. I follow you on Instagram, and I remember a series of posts not too long ago from the Bani Love (Columbia City Theater's recording studio, run by Gary Mula). How's the new album coming? When's the release date? What can we (as your fans) expect so far as the sound goes — a continuation of your existing trajectory? A totally new direction? Fill me in!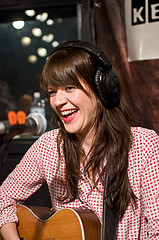 The process for making this new record has been quite different from Burn the Boats. Last time there were numerous sessions (and upwards of fifteen different players involved) over a year's time. We tracked and re-tracked and layered and removed layers — over and over until we got exactly what we wanted. It all happened very honestly and I love the finished product, but it was a long process of trial and error. This time around, Damien Jurado produced and he had a very definite plan about how he wanted to do things going into it. I'll go into more depth about "the big plan" when the record comes out, but the short version is that he wanted me LIVE (on vocals and guitar), in a big room, with very few "do-overs" — which is exactly what we did. We did track at Columbia City Theater with Gary engineering and recorded everything in a week. Most of it consists of live, first takes with my band, and then we added keyboards, cello, backing vocals and various other overdubs later (all done in a week though!). The resulting sound is quite different from my last record and I think some people will be shocked. It feels and sounds a lot more dangerous and raw, but there is just so much life in it. It's astounding. Damien nailed his vision perfectly and we really did capture a "moment in time."
No definite release plans yet. We're just finishing up mixing and then I'll be shopping it to labels for a bit before I decide how and with whom to release it. Stay tuned!
How was Damien to work with? I appreciate him as a recording / multi-faceted artist, and I'm curious as to what he was like in that role.
Working with Damien was spectacular. We didn't know each other well at the start, and I respect him immensely as an artist too, so I was pretty nervous going in. But he was incredibly supportive and encouraging and such a strong leader in the studio. He put me at ease right away. He's opinionated, but at the same time so respectful of my artistry that I never felt clobbered. He only suggested changing song feel or arrangements when he really felt strongly about it. And I can tell you this: he was right in every instance. He has a wonderful gut sense about things so it was easy to follow his advice. I trust that dude a lot now — both personally and artistically — and I think he has an awesome future in producing ahead of him. I'm so excited for people to hear what we made together.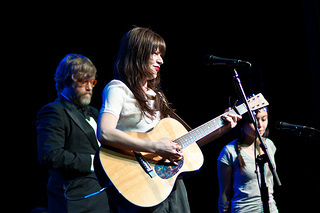 How did the experience differ from the previous process — didn't you work with John Roderick on that album?
Yes! Roderick produced Burn the Boats. We, too, had a fabulous working relationship and Roderick's imagination was wide open in the studio. It was exciting! I was about six months into making BtB when he came on board and he really helped to bring the whole project into focus and to completion. Eric Corson engineered that one and the thre of us made a great team (lots of experimentation and lots of silliness in those sessions). John helped to add so much of the character of the album, which is what I think ultimately set it apart from other songwriter records. I am so proud of BtB and will be forever indebted to J-Rod for investing in me at that stage of my career.
On a related note, a lot of people have asked me "why work with another songwriter instead of a more seasoned producer?" I'm sure I'll get the same question this time around with Jurado. But here's what I can say about that; other artists understand what it's like to stand behind the microphone themselves, and these two dudes in particular have walked ten miles in my shoes as singer-songwriters. They know the ropes, they know the fears, they understand the vulnerability required to put your heart on tape, and BOTH of them know how to do it right. Jurado summed it up perfectly when he said to me "It took me ten records to figure out how to do this right, let me save you some time."
Tell me about how you hooked up with the Team Up for Nonprofits / Gigs4Good folks. How did that collaboration come to life? What's the driving force in working with them / what strikes you about their organization?
The TUfN / G4G folks and I have tried multiple times to work together, but haven't been able to get schedules to coincide until now. I think the whole concept of their work is really cool. They not only help raise money for a multitude of non-profits throughout the year, but they (and this is the truly special part) totally get that playing live shows is actually a musician's livelihood. I'm asked to play benefit shows all the time, but the expectation is always that I should donate my time and not expect any support in return. TUfN folks always take care the artists involved (with promotion, social media exposure, monetary support, etc) because they want the whole experience to be a true partnership and for everyone to feel honored at the end of the day. I'm excited to finally be involved in one of their events – especially one that helps them to keep their good work going!
Anything special up your sleeve for the 'Wintersong' performance?
I'm going to do a song off Burn the Boats, a song off the new record that hasn't been played live yet, my Christmas jam, and a couple of special collaborative covers (you'll have to come to find out what those are!).
So you just opened up for Ben Gibbard this past Saturday. Exciting! Can you talk about how that happened? Have you worked with Ben or the Death Cab camp before? Or did the collaboration come through the 826 Seattle camp?
Yes! I got to open for Ben on Saturday! This was actually the 2nd 826 fundraiser I've played this year (they are an incredible organization), but surprisingly this opportunity didn't come through them. Believe it or not, Ben direct-messaged me on Twitter to see if I wanted to open the show! We'd never met in person, but we have a lot of friends in common and we're pals on the internet. I woke up to his message one morning and seriously thought I might be dreaming. Like all good Seattleites, I've been a fan of his for years and I felt really honored and excited to get to do it. The whole night was amazing, the audience was stellar and honestly, Ben is just about the sweetest, most grounded dude you'd want to meet. It was a completely feel-good experience and I sure I hope I get to do it again sometime.
What's coming up for you after this? Any other shows on the horizon?
I just have two more shows on the calendar this year — the Wintersong event and then December 13th at the Sunset with the amazing Lavendar Diamond (from LA). Both shows will be with my full-band, which is the most fun for me. 2013 shows are in the works, but won't be announced for a little while. I'm still cooking up the plans!
{Wintersong takes place this Wednesday at the Crocodile at 7p. Tickets are $15 in advance / 21+. Photos of Shelby Earl at KEXP and at the Triple Door by Victoria VanBruinisse.}