Fittingly, when I turned my iPod on and adjusted it to the much-loved Shuffle option, it chose to play a track off an album that I've been listening to a great deal lately, one that I've come to love for it's obscure contents and delectable beats; one that satisfies my girlish desire to Dance!, Dance!, Dance! while fueling my snobbish need to hear odd nuggets of musical pleasure.
Disco, Not Disco: Post Punk, Electro & Leftfield Disco Classics is the third Disco, Not Disco compilation, released by Strut early this year. This third edition seems a bit less focused on the already fought (and won) disco revolution and more centered on metallic-edged post-punk. There are a lot of highlights on this record, including "Launderette" by Vivian Goldman and Delta 5's "Mind Your Own Business," which has been on repeat in my head for days now. The songs are angular, jangly and irresistibly dancey — words that I could use to describe one of my closet favorites, Siouxsie and the Banshees.
"Crunch Cake" is a full-length instrumental ditty by Isotope. It is rhythm obsessed and jazzy without the big band sound turnoff. The guitarist of Isotope, Gary Boyle, was actually in Dusty Springfield's band before he formed the art-funk, prog-rock outfit with Nigel Morris. At approximately four minutes long, "Crunch Cake" is a full-length song but feels like an interlude, buffering the super solid tracks on either side with style. It's sleazy, in a sexy P-Funk kind of way, but has a sly post-disco/pre-new-wave feel that could easily belong in the DFA collection of discs.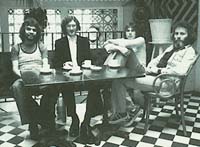 "Crunch Cake" isn't the best song on this compilation by far, but it does serve as a mood-maintainer and represents the electro-pop aesthetic that made disco, and other offshoots of the genre, such crowd-pleasers. New wave, disco, dance-punk, electro-funk, post-punk, art-funk … whatever you call it, Disco, Not Disco will disco-kick your ass right back into those bell bottoms you swore you'd never ever wear again.