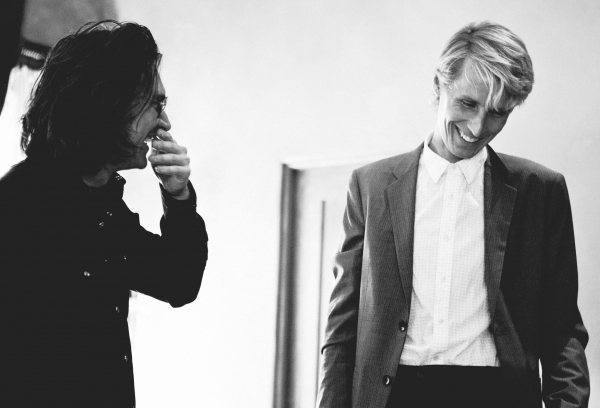 No surprises here: I've been looking forward to this show since it hit my radar almost two months ago, when I was making my best-of-2013 lists and had to throw in an honorable mention for this guy's pending release. Yes, I'm talking about Tom Brosseau and yes, the final cut of the record is as good as I'd hoped. He'll be at the Fremont Abbey this Wednesday night with Shelby Earl, and if you know what's good for you, you won't miss it.
To speak to the album for a moment, Grass Punks is hands-down my favorite release since 2005's what I mean to say is goodbye, and as I type this I can't believe that nearly ten years have passed between them. While a beautiful body of work has been birthed in that decade, Grass Punks rings my bells so specifically because it's just very… well, Tom: a perfect fusing of traditional roots sound with a razor-sharp edge; a hybrid of North Dakota wheatfields and blistering days on the streets of Los Angeles. His dense, multi-faceted prowess shines through in separate-but-equal ways in standout tracks "Love High John The Conqueror Root" and "Today Is A Bright New Day," both of which are yours for the listening and purchasing here (and below).
The Northwest leg of the tour kicks off tonight at Mississippi Studios, with a handful of left-coast dates that dip down into California and an appearance at SXSW before Tom heads off to Europe:
2.25 // Mississippi Studios, Portland OR
2.26 // Fremont Abbey, Seattle WA
2.27 // Axe and Fiddle, Cottage Grove OR
2.28 // Veterans Memorial Theatre, Davis CA
3.01 // House concert, Sacramento CA
3.03 // Freight and Salvage, Berkeley CA
3.04 // House concert, San Francisco CA
3.06 // North Park Vaudeville and Candy Shoppe, San Diego CA
3.07 // Sanctuary, Santa Monica CA
3.08 // House Concert, Lompoc CA
3.11 // Javelina, Riot Act Media SXSW Showcase, Austin TX
Tickets for the Fremont Abbey show are right around nine dollars with fees, and are available through Brown Paper Tickets here (first two rows reserved are sold out). 7p doors / 8p show, all ages welcome. We'll see you there!
{Photo courtesy of Nathaniel Wood / Mary Jones Management.}