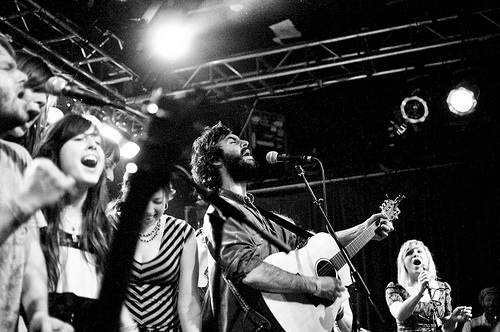 If you were lucky enough to catch The Head and the Heart's sold-out show at Neumos a few months back, you know just how excited we are about this Friday.
Back in January, THatH took the stage at Neumos with Lemolo and Curtains For You, one of the first shows they played where we stood with fellow "I saw the Sonic Boom set last summer" fans and realized we didn't know most of the people in the room. Well, as the nation's well aware (yes, the nation, not just the Pacific Northwest anymore), this band has been going onward and upward on a steady pace since — up to and including the current west coast tour that has them playing two nights in Seattle this weekend. On Friday, April 29th, THatH will be playing to a sold out Showbox with Lemolo and the The Devil Whale, and the next night finds them at the Moore (yep, that's sold out too) with Grand Hallway and Ivan & Alyosha. Both nights are sure to make the mark, but we're definitely excited that we've got tickets in our hot little hands for the Showbox version of this latest breeze-through-town installment from one of our new favorite hometown bands.
Keep an eye on Facebook and Twitter in the days leading up to the show for ticket announcements — there's no guarantees, but hell, even Paul Simon freed up sixteen tickets the other night at the Market. You never know!