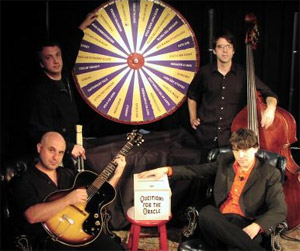 Seattle folks: Feel like going to a live music event this weekend? And getting your fortune told? At the same time?
I just heard about a weird little music-meets-mysticism event called The Ego & The Oracle, featuring a band from BetsyBoston's neck of the woods, happening at the Capitol Hill Arts Center this Friday and Saturday.
Description from the CHAC site:
Part experimental theatre. Part rock n' roll cabaret. Part mystic mind-expansion. The Ego and The Oracle is a night of live rock n' roll divination based upon Andras Jones' Radio8Ball show on KAOS 89.3 FM in Olympia, Washington, featuring Boston's Jim's Big Ego as the band. Audience members are invited onstage to ask questions. Their answers are chosen by spinning a wheel with the band's songs on it. When the wheel stops Jim's Big Ego plays the song and then, with the help of "Professor" Jones, the answer is interpreted.
Intriguing…