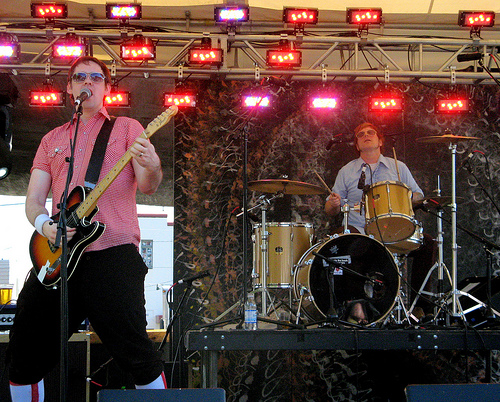 Tennis Pro photo by Jeanine Anderson 
I think I've figured it out: Georgetown Music Festival is a marketing ploy to get "out-of-towners" to check out their neighborhood's businesses; I found myself patronizing every shop in the near vicinity, including the little Ma and Pa run pharmacy a block away. I'm alright with that, because most music festivals are chock full of advertisments anyway, except they're usually big corportate sponsors, so hey, I'm all for a festival surrounded by the little guy.
I really enjoy that aspect of Georgetown Music Fest; the line-up is solely NW acts (with a few bands from LA), there isn't a bunch of in your face advertisments, and they have it set surrounded by cool places to duck into when you need a reprieve. There was an awesome music photography gallery exhibit, more hipsters in Jules Maes Saloon than most Capitol Hill taverns, and peanut shells galore on the floor of 9lb Hammer. 
The food can be a distraction from the festival as well, though. For instance, I was enjoying one of Smarty Pant's really delicious sandwiches, when I realized I was supposed to be at The Kindness Kind's set. Can you blame me? The sandwiches at that Georgetown watering hole are mainly $8.50, but come out the size of your head! One of the best egg salad sandwiches I've ever tasted.
I think Three Imaginary Girls should have come as a sponsor, considering there were four Imaginaries there on Saturday. Jeanine Anderson and I already made acquaintance at Crystal Castles last weekend, but we finally met Mike Mess and Imaginary Kiku. Tennis Pro should feel proud, all four of us were in attendance for their set!

Very Imaginary photo.
Speaking of Imaginary Kiku, one of my favorite moments of the weekend was dancing front and center with her to Aqueduct's "Suggestion Box." My most favorite part of the weekend was being in the backstage area, drinking Rainier with Panther Attack! in the sunshine, thoroughly enjoying Hypatia Lake and The Hands' sets.
How to Make Yourself Look Like a Fool 101: The backstory is, my brother is roommates with Speaker Speaker's Colin, and he's been a family friend for a long time. But, as fate would have it, I still have never caught one of their shows, something always comes up on the nights they are booked.
Me: "Hey Colin! I'm glad you guys are playing this afternoon, I'm going to FINALLY catch one of your shows!!" Colin: "Oh! That's great…except we uh, already played." Me: "What?!" Looks over at the schedule poster– 5:30 Speaker Speaker–Looks at Watch–6:40–Me: "Oh uh, heh. Now I feel like a really big asshole…blame it on too many backstage Rainiers! I, uhm, I have to run! We'll restart this conversation later."
Anyway, enough "wrapping up." Reviews are forthcoming. I also was unleashed with a recorder from Hollow Earth Radio, stay tuned for when you can hear: Kaylee Cole express how much she loves everyone, PWRFL Power tell you you are no longer a punk, go buy some car insurance, some interesting insight from Panther Attack! along with them interviewing me, The Hank's give some shameless self promotion, and a bunch more.