I got wind of this through various sources on Twitter today – NY Post's POPWRAP has a preview of Tim Burton's latest: Alice in Wonderland.
These pics prove once again that Burton can't resist turning brunettes into platinum blondes (Hitchcock, much???), making Johnny Depp look as terrifying as possible, and sticking his life partner/wife/insert-label-here in the silliest costume he can find (the Helena Bonham Red Queen photo is seriously giving me the wigs *shiver*).
Sorry for traumatizing everyone, but I have to share: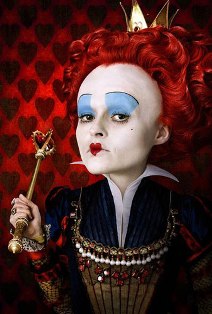 You can see the full photo gallery on POPWRAP here.
I do love Burton (despite that unfortunate Planet of the Apes incident) and this looks like it will be extra creepy and mind-blowingly beautiful. Crossing my fingers that it will also brilliant!