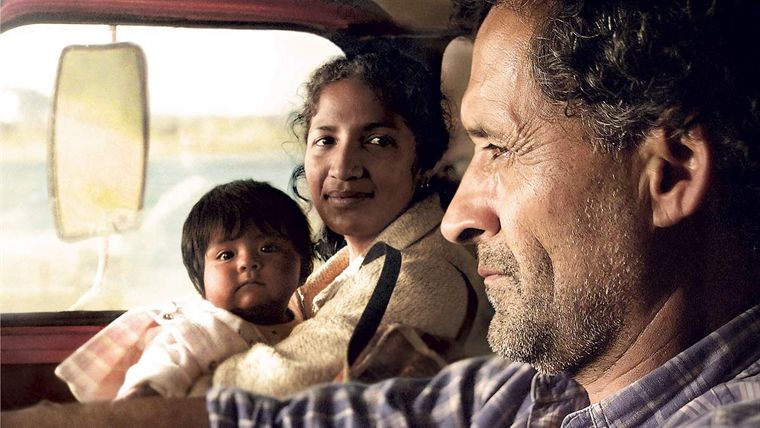 While I'm rapidly falling behind the prolific SIFF madman Imaginary Embracey in number of films viewed (yes, I'm jealous) I had a few picks to share for this weekend. As well as a counterpoint to offer on Sleepwalk With Me. 😉
I'm sure there are a ton of other great things playing and I'm looking forward to checking out some of the recommends from Imaginary Embracey's list myself. This list is limited to films I can vouch for in advance. My full thoughts on everything I've seen, or at least written about can be found in other spots online if you're planning further in advance than this weekend.
In no particular order…
Las Acacias (Argentina) – A tired, grizzled truck driver's boss asks him to give a ride to a woman traveling to Argentina with her baby. He doesn't want her there. The baby is preternaturally cute. There's not a lot of talking, a lot of mate consumption, and in the end an understated super-compelling film. In keeping with the less is more ethos of the filmmaker I'm just going to say you should buy a ticket. I'll wait… Seriously, I loved this film which was one of the most beautiful surprises for me at Palm Springs 2012. And I only walked in by mistake because something else was booked. You on the other hand dear reader, have no such excuse. Add it to your schedule now!
Sleepwalk With Me – Comedian/director Mike Birbiglia takes us along for a thinly veiled autobiographical ride as he becomes an accomplished performer, plans his wedding, simultaneously contemplates whether he wants to get married and struggles with a remarkably dangerous sleepwalking problem. We're always hearing how great comedy comes from great personal pain. But it's rare for a film to demonstrate it so convincingly. This moving picture that has a lot of bits some of us may feel more than a little uncomfortable with due to self recognition. But it's hilarious and directly shows that process of turning real life trauma into hilarious stand-up.
My Sucky Teen Romance – With a bright pop look to it, some amusing dialog and earnest, likable (albeit not super slick) performances populating it I think it's hard not to enjoy My Sucky Teen Romance. It's not a parody of vampire films, at least not a full on one. Instead it feels more like a tragic romantic comedy that does get some of its laughs at the expense of Twilight and a trial and error process of figuring out which vampire lore applies in the kid's particular situation. With many a nod towards the fact that it's hard out there for the teens… If you're a mass consumer of vampire pop-culture I'd say My Sucky Teen Romance is definitely worth your time. There's a more comprehensive review lurking out there if you'd like to read more.
The Do-Deca Pentathlon – A story of brotherhood and growing older and a bunch of other things. But mainly one about brotherhood. Two siblings with a lifetime of issues compete in a custom built 25 event Olympics to determine who is the better brother. Or perhaps more accurately, re-compete as grown men in an event they had invented in their childhood. As the original running of the competition ended in controversy the Mark (Steve Zissis) and Jeremy (Mark Kelly) have been at odds for the twenty years since.The film feels raw and real yet was surprisingly enjoyable given the seriousness of the film's second half. It totally worked for me – and I think it will for most people. At least most people who are adults and have a brother. Especially if you're pretty sure about having a brother but a little less confident in evaluating yourself as an adult, mentally speaking.
Bad Brains: A Band in DC – I've written a lot about this film coming out of SXSW. In short it's an overview of one of the most important punk bands ever, told effectively. The entire history of the band is covered, from pre-inception through the present day. Rather than linearly drag us along this path the filmmakers wisely inter-cut bits of history throughout. We meet the band on a recent latest tour, where some clear tension has arisen (there's yelling about being a sellout from what I recall). Not really surprising, I'm not sure there's any group whose members have a perfectly smooth relationship after 25 plus years together. With great access to the spaces and people that were around at the start of their DC based career the basics are fleshed out (how they met, the inspiration for the band's name, where they played) while rewarding fans with lots of nuggets that are new (at least to me).