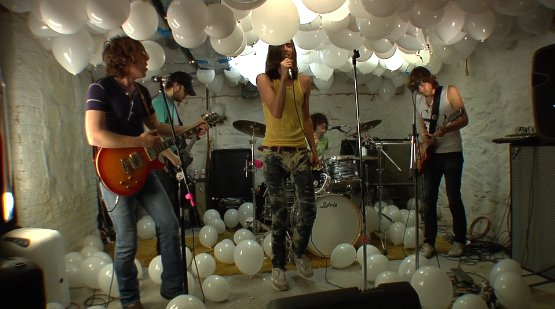 The Philadelphia-based rock band Free Energy makes 1970s-influenced classic rock in the vein of ZZ Top, Lynyrd Skynyrd, T-Rex or Thin Lizzy, but does so without a touch of irony. They don't so much as borrow liberally from that era as try to put them in a time when people drank cheap beer because it was both cheap and beer.
The five-piece band is nearing the release of their much anticipated debut album Stuck on Nothin' early next month (March 9 on digital and vinyl, May 4 on CD), which was produced by LCD Soundsystem's James Murphy (and released via his DFA Records label). That has bigger implications than mere name-dropping, though. What Murphy's seal of approval and endorsement means is that this is unpretentious music that was made to collectively shake asses. The spiritual ancestor of "Bang Pop" (one of Free Energy's catchiest songs) is The Troggs' "Wild Thing" and Pitchfork approved of their single "Dream City", saying it is "totally rad".
Free Energy comes through Seattle on Sunday (February 28), playing Chop Suey as part of their national tour with Foreign Born and Salmon Thrasher. $10/doors, 21+.