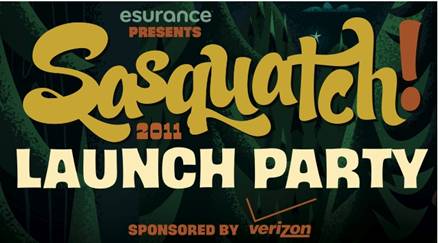 Are you one of those hardcore music festival-goers who buys tickets before you even know who's playing? Or do you prefer to wait to see who's taking the stage before you fork out the $$$?
Either way, if you're planning on/thinking about going to the Sasquatch! festival this year, you can find out the lineup for sure on Sunday, February 6. Showbox at the Market will be hosting this year's launch party, with performances from The Thermals, Mad Rad, and Das Racist. Comedian Todd Barry will be manning the mike, and tickets to this even are free free free!
Just head over to Verizon stores downtown (6th & Olive), at Northgate, or in Bellevue Square starting tomorrow, Thursday, 2/3 to pick up a pair (limit 2 per person). Just an FYI: tix don't guarantee you entry, so plan on bundling up and waiting in line for a bit to get in and get a good spot.
Sasquatch! 2011 Launch Party
sponsored by Verizon
Showbox at the Market
Sunday, February 6
Doors @8pm
21+