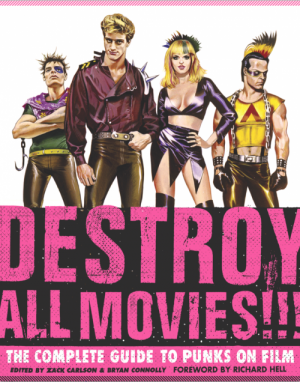 Sometimes you've just got to say "Respect" for a couple of folks perusing a crazy dream to completion. The launch of the book Destroy All Movies!!! The Complete Guide to Punks on Film is one of those cases. It's a comprehensive guide to every appearance of a punk onscreen in the 20th century, and a standout example of the true DIY spirit of punk.
Sure, I've seen/loved Repo Man and Surburbia, along with many of the other films they viewed as their inspiration for the concept – but watching thousands upon thousands of movies to compile a guide of movies where a punk character pops onscreen (not to mention reviews) would have never have occurred to me.  The end result is the ultimate movie coffee table book filled with writing and art that is going to make you want to pick it up just for fun, and as a serious research tool to boot.
These hometown boys made good are swinging through town on a national tour.  On Friday, November 12, they'll be signing books at Scarecrow Video, who collaborated in the sense of both making garbage bags full of videos available for the project and contributing content. The signing starts at 5pm and then they'll be hosting a quadruple feature of classic examples of punks on screen including Valley Girl, Get Crazy, Class of 1984 and Urgh!: A Music War at the Grand Illusion theater beginning at 8:30pm.  A great value at $12 for the whole shebang (for Grand Illusion members – $20 general admission, $17 students, $15 seniors).
I myself picked up a copy of the tome in Austin at Fantastic Fest in September where they hosted a screening of Class of 1984.  I haven't read nearly as much of it as I want to – but so far it's been pretty comprehensive – I haven't found a missed film yet. While it's coming to Amazon.com in December, this is an opportunity to get it signed with a custom "punk signature phrase" in person.  Their contribution to my book was pretty solid in that regard, though fell short my personal favorite example by way of the Dead Milkmen band member who once signed a shirt I was wearing "thanks for shooting the pope." But I'm sure they've improved by now. 😉
From the introduction in Austin I recall that they started this effort in Seattle while working at the Grand Illusion.  So turn out and welcome them home.  I'm hoping to be at the quadruple feature myself – though I'd better start sleeping now to be ready – the films I'm most excited to see Urgh! A Music War doesn't kick off until 2am. Sigh – just like the old days seeing these bands in NYC.
If the whole "I'll sleep when I'm dead" vibe of the quadruple feature doesn't quite appeal to you there's also the start the 18th Annual Polish Film Festival's second weekend this Thursday at SIFF Cinema.  Quite a few films playing as part of that including After.Life (on Sunday) which improbably stars Christina Ricci for those who want a break from both Hollywood and punk rock fare.