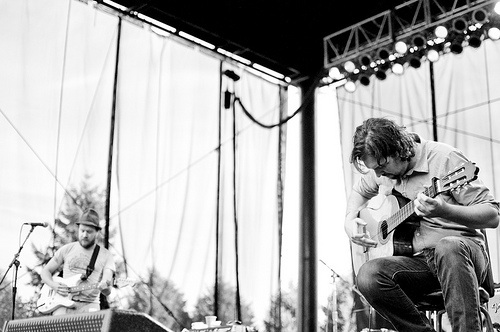 There's not too many things you can compare to a Cave Singers show. The sheer size of the music, the presence that this band creates when they take the stage — it's almost surreal. They're enrapturing, they're the real deal, and they're playing at the Showbox (at the Market) this Friday night. Hardly seems possible that this show is already here, seeing as we're still reeling from their sets at Pickathon and No Depression this summer, but it is indeed all happening. And the rest of the bill just sweetens the deal!
The Moondoggies will be playing the middle-slot on Friday, bringing their heartfelt-yet-ballsy everythingness to our willing eyes and ears. They've got a new album out called Tidelands, which they released last month on Hardly Art, and one of the standout tracks has been transformed into the most wonderful four minutes of visual heartache we've ever seen in a cartoon. (Yes, a cartoon.) Drew Christie has taken the swoon-worthyness of "Empress of the North" and set it to animation, as only he can — and here's the living proof, so you can see the radness for yourself:
[video: http://www.youtube.com/watch?v=gsrt8LJhGkk&feature=player_embedded]
To round out this triple-win, the night will be opening up with a new(er)(ish)(notreally) group you might have heard about called Lovesick Empire. It's made up of a few of our favorite locals who come together for a dark, pre-White Stripes, dare we say, 'grungy?' authentic Seattle sound — just take a listen to "White Wolf Blood" and "Home Sick" on their MySpace page and see if you disagree. We seriously can't hardly wait to see them live!
Get there early to make sure you snag a good spot — this show's a for sure don't-miss, start to finish. We'll be right there in the front row with you.
{Cave Singers / Moondoggies / Lovesick Empire play the Showbox at the Market this Friday, Nov. 5th. 21+ / 8p doors / $16 adv, $18 DOS. Cave Singers photo courtesy of Victoria VanBruinisse and the sparkly TIG flickr pool of awesomeness.}