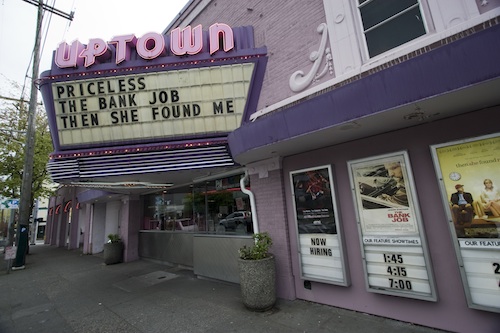 I would like to take this moment to announce that I think SIFF purchasing the Uptown Cinemas and rescuing them from languishing in certain doom is the best thing that they have ever done, ever. EVER.
Okay, now that I have that out of the way – let's get to the good stuff. The Uptown is having its Grand Reopening this week! Starting Thursday, 10/20, there will be a serious of Sing-Alongs (Hedwig, Purple Rain, and Grease) as part of the Heineken City Arts Fest, and then they're gonna show a whole bunch of awesomeness — officially known as Uptown Cinema Classics — starting on 10/23.
You can view the full schedule here, but the films I'm most excited about are West Side Story, Monty Python and the Holy Grail, The Royal Tennebaums, Pee Wee's Big Adventure, LA Confidential, and The Godfather. They'll also be rounding out the week with Bob & the Monster (which we heartily recommend you get tix to!). Even better: all these films are only $5 – OR FREE with a same-day receipt from any Queen Anne area business. omg. what.