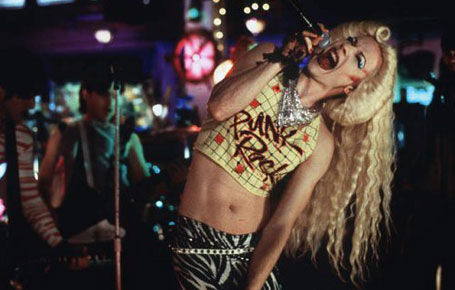 Are y'all getting excited about this year's City Arts Fest yet? There's so much goodness packed into only three days! Since Victoria did such an incredible job picking stuff you can't miss, I thought I'd join the fun with a list of my must-sees:
Thursday 10/20
MUST SEE
Hedwig and the Angry Inch Movie Sing Along
SIFF Cinema
8pm | $12
buy tix
How do I even being to express my love for this movie? I can't. It's too much. If you've never seen it, you HAVE to. Like, right now. And if you have, how can you pass up a chance to sing "The Origin of Love" and "Sugar Daddy"? I mean, seriously. you guys. seriously. I only wish I had an official foam Hedwig hat/wig/thing to wear to this.
RUNNER UP
Crystal Castles
w/Crypts, Nightmare Fortress
Showbox SoDo
7pm | $27.50 adv, $32 doors
buy tix
These guys won my heart with their cover of Platinum Blonde's "Not in Love" featuring Robert Smith. I proceeded to buy their CD immediately and fall for their crazy retro electonic-y pop tunes. I kind of bet they're adorbs on stage too.
2ND RUNNER UP
Mad Rad w/Katie Kate, Hellovastate, Slow Dance
Neumos
7pm | $12 adv, $15 doors
buy tix
Confession: I haven't actually seen Mad Rad live, but I bet they put on an awesome show based on the tracks I've listened to online. I do know that Katie Kate DOES put on an awesome show, and I'd love to see her do it again and again. Since this is her cd release party, I'm betting she's gonna kick some serious ass.
FOR LATER
Culture Club: Celebrity Karaoke
FRED Wildlife Refuge
9pm | $5
buy tix
Wait, what? I get to watch Sean Nelson, Nancy Guppy, Jen Graves, Sara Edwards, and a host of other local celebs belt out some heartfelt karaoke tunes? AND I get to participate? With back up dancers? Wow.
Friday 10/21
MUST DO
Thriller Dance Class
Velocity Dance Center
4pm | Suggested Donation $10
A friend and I were recently discussing how nobody ever remembers anything about the Thriller dance except for the part where people are swinging their arms l-r with little zombie claw hands, which led to a demonstration of how much we did remember, which further led to our Rendevous waitress demonstrating some awesome Zombie dance skillz, which then made me realize it had been way too long since I watched the video and did a reenactment of it. So uh, that makes this the perfect activity for me, right?
MUST SEE
Purple Rain Movie Sing Along
SIFF Cinema
9:30pm | $12
buy tix
Ah, Purple Rain. The beginning of my obsession with Morris Day and the Time, and also my obsession with terrible 80s movies. Because don't get me wrong, this film IS terrible. Like, really, really terrible. But it's also a lot of fun, and includes almost every single song from Prince's Purple Rain album, which actually totally rules. Bonus points: you'll get to sing songs by The Time and Apollonia 6's "Sex Shooter", which I performed while very drunk once at karaoke. Good times, good times.
Sat 10/22
MUST SEE
Color Me Obsessed: Replacements Documentary
Northwest Film Forum
7pm and 9:30pm | $10
buy tix
The Seattle premiere of a documentary about a guy who loves The Replacements SO much, he made a movie about it, even though they're not actually in it — and he's never even met them. It's reportedly more about having a favorite band and what that means to fans, than it is about The Replacements. So you know, I can relate…and I'm sure every Imaginary can also. 🙂 (This film also screens on Friday.)
RUNNER UP
(or you can still make it if you see the 7pm Color Me Obsessed screening)
Grease Movie Sing Along
SIFF Cinema
9:30pm | $12
buy tix
I have now been to two Grease sing-alongs, and they were both some of the most fun I've ever had. I recommended putting on a circle skirt and retro scarf to get in the mood, but honestly – you haven't lived until a whole theater of people is singing along to "Summer Nights", with the boys sining all the T-Bird parts, and the girls singing all the Pink Lady parts. *le sigh*
Festival TIP: You can actually plan to catch most of the things listed by picking up an all-access wrist band and sliding in out and out shows, using this handy time sheet! (For instance, Katie Kate goes on at 10pm, and Crystal Castles isn't until 11:30 so you could see both!!!). Man, I wish all shows ever listed out set times. That would make things a lot easier, huh?