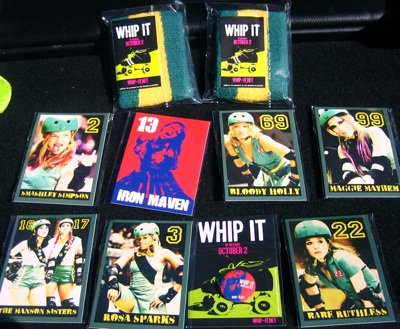 Alrighty, Whip It! Fans – we've got a cute little prize pack ready to go home with someone worthy. Two wristbands + 8 pins featuring the "Hurl Scouts" from the film. How do *I* get a chance to win, you might ask? It's easy!
Just send an email to tig@threeimaginarygirls.com with the subject line "Bloody Holly" by 3pm, this Friday (10/9), and we'll notify the winner, ask for your address and MAIL them to you. Awesome, non?
FYI: Bloody Holly is played by my absolute favorite stuntwoman and is the object of a spectacularly ridiculous crush: Zoe Bell. If you don't know anything about Zoe, go find out. NOW. IN fact, whoever wins – if you wanna give me the Bloody Holly pin, I'll totally take it.
Also, I'll take this opportunity to tell you 2 things:
1) Whip It! was definitely worth the ticket price. Adorable without being too trite, touching without making me feel like puking, and enough Roller Girl action to get really excited about. Go see it.
2) The soundtrack is also pretty awesome. Even tho I wasn't really lovin' the Landon Pigg numbers in the movie, they picked the least offensive (and catchiest) one for the CD, and the rest of the tunes are from some pretty awesome bands + that Lollipop remix is AWESOME:
1. Pot Kettle Black – Tilly and the Wall
2. Sheena Is a Punk Rocker – The Ramones
3. What's the Attitude – Cut Chemist, Hymnal
4. Bang on – The Breeders
5. Dead Sound – The Raveonettes
6. Blue Turning Grey – Clap Your Hands Say Yeah
7. Your Arms Around Me – Jens Lekman
8. Learnalilgivinanlovin – Gotye
9. Boys Wanna Be Her – Peaches
10. Jolene – Dolly Parton
11. Caught Up in You – .38 Special
12. Never My Love – Har Mar Superstar feat. Adam Green
13. Black Gloves – Goose
14. Crown of Age – The Ettes
15. High Times – Landon Pigg, Turbo Fruits
16. Unattainable – Little Joy
17. Lollipop [Squeak E. Clean & Desert Eagles Remix] – The Chordettes
18. Doing It Right – The Go! Team
19. Breeze – Apollo Sunshine