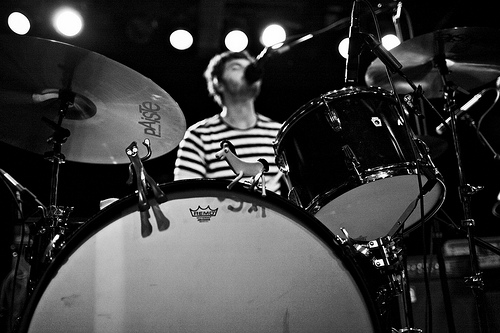 The first time I heard Michael Benjamin Lerner live was in the incarnation of the band that played the 2008 Imaginary Holiday Spectacular at Chop Suey. (And no, I'm not just saying that because this is the lead to an interview for Three Imaginary Girls.) It's the only time I can recall in recent memory that the sound of a band made me stop what I was doing, leave a conversation with a legit famous person — at the time, John Roderick — and go into the other room to see what the haps was. Turns out, it was a little band called Telekinesis, recently on my radar due to a stellar release and some pictures I saw on the 'nets by the uber-talented Sarah Jurado. The band was catchy, tight, and infectious. Hence my love for Telekinesis was born, and "Coast of Carolina" has made an appearance on practically every mix I've made for friends looking for new music to dig on since.
Being the lucky gal I am, I was able to see that incarnation of Telekinesis again, when Michael filled in on percussion for a pseudo-Long Winters gig at the Sunset, and then played full-band later on in the night. Between living in our fair city and taking the trek out to Sasquatch! last year, I was able to catch a few more glimpses of the good that Telekinesis is capable of, all the way up to (and including) the work of his newest release, 12 Desperate Straight Lines. He'll be making his noise unto the masses again shortly as he tours behind 12DSL, and we caught up with him last week to talk about his chosen craft, what he's listening to, recording with Chris Walla, and other indoor sports.
Imaginary Victoria: Thanks so much for taking the time to chat with me! Alright, Michael — let's jump right in. What's changed the most for you since recording the last album, so far as your personal world goes? There's a spot in your press release about a change in relationship, and I'm sure you've been affected somewhat by a measure of success — have these changes proved stimulants or challenges? There's always that "happiness writes white" trap that Sean Nelson sings about…
Michael Benjamin Lerner: Of course! Let's see… a whole heap of a lot has changed since the first record! A relationship that I was in when writing / touring off that first record ended, and that was hard and weird, and it provided a whole lot of song fodder. And, I also was dealing with a bunch of personal health issues. Ear stuff, which could never really be explained to me, which led to a series of unfortunate events, including a car accident the day before I was supposed to drive to San Fran to record with Chris Walla. The car crash prevented me from doing that, but in turn, I wrote a bunch of songs that ended up on the record in that time that I was home because of rescheduling and recovering. And now, I'm feeling better, and happier! I moved into a house with my girlfriend, and am finally not living with my parents since I started this band, which feels amazing.
IV: I have to say, at least in how it's translated from my perspective, your happiness / success — these good things happening to you haven't sent you to blandsville so far as the new album goes. I really dig the new stuff! It's tough from the fan end, you want your favorite artists to do well but… sometimes they can get boring as hell to listen to when they're happy. Needless to say, the Imaginary camp is pretty stoked that that hasn't proven the case for you! Also — car accident?
MBL: Thanks! I really really appreciate that — this second record was scary, becuase I totally felt that second abum syndrome… but yes — car accident! So, I went to Berlin for a month in February to write and demo songs for the record. I wrote "50 Ways" / "I Cannot Love You" / "Car Crash" there, and then was going to get home on the first of March and then drive to San Francisco the day after to start recording with Chris. I went to Rainier Beach to look at a house the day before, in my van packed full of all of my equipment… and it was a sunny day and I was coming home from this house, and on a road I wasn't familiar with, and long story short I went thru a red light at 35 MPH like it was still green — and hit a car coming through the interesection! It was horrifying and scary and emotional. And everyone was okay, thankfully. But needless to say, I couldn't drive to SF the next day.
IV: Whoa! Did you do that weird "maybe this is a sign" thing? For better or for worse?
MBL: Not at the time, no! I got super depressed, so bummed out. But, looking at it from the outside now, it was so good.
So positive. Which is crazy to say. I wrote so many songs from that March to July (when I went to Portland to record the record, finally). It was really an intense time! Like, that whole two years of the first record were so happy and good and hooray! And then all this happened, and I was really scared — but, it all worked out. Phew!
IV: Let's talk about you recording with Chris Walla — you know, we've considered trying to track down the current owners of the Hall of Justice here in town and turning it into a museum or restoring it as a recording space, were we ever to hit the lottery. How's the current studio? Is there anything he's doing that others could take a cue from, outside of the obvious large-scale engineering talent, and what appears to be a good chemistry between you two? I mean, I presume good chemistry since I follow you both on Twitter, that and obviously the music / finished product sounds stellar…
MBL: Ha ha! Walla is a super total genius. We work really well together because I think we both aren't afraid of trying things that aren't normal, or correct. Maybe it's because I am willing to let him do whatever he wants to do, and don't question it because I know it always ends up in a place that's amazing. I just really can't say enough kind things about him. He's a gem of a human being. So talented, and so kind. Really really happy to have him as a friend, and collaborator!
IV: My interactions with your music seem to cross paths with my interactions with John Roderick, strange as that may seem. I left one of my first real-time conversations with him behind to see who was making such a lovely fuss at the Imaginary Holiday party back in 2008, and I also caught you playing percussion for him that one night in Ballard — how did you wind up playing with them that night at the Sunset? Have you always been a Long Winters fan?
MBL: Oh yes! Huge fan! The first two Long Winters records remain my favorites of all time. Playing drums with them came about when they sort of asked me, I guess! It was for Grant McCallums birthday party. Grant is Telekinesis' manager, and works for Barsuk Records. So, it was Telekinesis and The Long Winters playing his party — so, Roderick asked if I could play. We played Nora that night, me on the drums which was a mega-highlight for me. It's a good good good song!
IV: Ah! I love the sense of community here — it's something I haven't felt as much anywhere else I've lived — viva Seattle!
MBL: Truth! It's not like anywhere else. Promise.
IV: And you would know, you seem to have a lot of miles on your shoes, from what I've read —
MBL: Yes! So many miles. It's been insane, the amount of traveling in the past two years! Europe thrice, America many times around — crazyness.
IV: Well, so far as your current surroundings go — in the context of local, national, new, old — what are you listening to these days? I like to think I can get an idea of what's on an artist's current mix tapes of old, as well as what they've got in heavy rotation, by taking a solid few listens to their album — I don't mean in a "this sounds-like that" way, but in a "things-that-shape-us" way — there was the Cure, and I know by your tweets that your music style gets to a granular level across a ton of different genres — and has anyone local caught your ear lately?
MBL: Yes yes yes! Okay, here's what I am listening to a lot-lot lot: The Cure – Disintegration, New Order – Power, Lies, and Corruption, Joy Division – Unknown Pleasures, Flin Flon – AOK / Boo Boo, and Superchunk – Majesty Shredding. I recorded a band called the Torn ACL's a few months ago. They are insane good! I think we'll be hearing a lot from them in the coming months… I sure hope so!
IV: And didn't you record with… Discover America, too?
MBL: Yes!
IV: Yes! Total yes.
MBL: Big time goodness!
IV: Do you see a lineup firming up for Telekinesis anytime in the future? I can't imagine bringing in marriage-forever partners into my creative life, so it's completely understandable to me that a musician would want to 'play the field' and work with what works at any given time — do full bands just form for shows / tours? Anyone recurring in the roster that's got heavy rotation / creative partner potential?
MBL: Good question! I absolutely see Telekinesis becoming a 'band' in the future. I want to write this next record as a band. I mean, I have the most ridiculous band ever right now. Cody Votolato (The Blood Brothers / Jaguar Love / Waxwing) is playing guitar and singing, and Jason Narducy (Verbow, Bob Mould / Robert Pollard) is playing bass. We've got a really special thing right now, and I'm thrilled to have
them playing these songs, and I absolutely want to write a record with the three of them. It would be foolish for me not too. Making records alone is very lonely!
IV: That's a good… I don't think 'pedigree' is the right word, but that's some talent for sure.
MBL: Yeah! Tell me about it! I feel pretty fucking lucky to say the least.
IV: I can't wait to see what it sounds like live! I saw a date for the Doug Fir, is there one in Seattle or will that be at the end of the tour?
MBL: End of tour! March, at the Crocodile. With the Globes and Mal Del Mer! And the Doug Fir show is with the Love Language — so insane! One of the best venues in the country.
IV: Agreed! Alright, Michael — is there anything else you want to share with the Imaginary stratosphere?
MBL: Let's see… oh — I love Georgetown. I just moved here, and I love it. So much. it's such an incredible neighborhood, and I encourage Seattleites to come here more often. The Hat and Boots rules. And the Georgeotwn Trailer Park mall is amazing. And the Georgetown Liquor Co. — it rules. And I love it here. Planes fly over us all the time, and it's insane.
IV: It's a photo-paradise, too!
MBL: I just think it's Seattle's best kep secret! Yes yes yes! A photo paradise for sure. Jim Bennett came here recently to take pictures in Georgetown with me!
IV: And speaking of, those shots Kyle (Johnson) got of you for your promo — such good stuff.
MBL: He's a sweetheart. Kyle is a monster. So so so good. He's destined for big things, I think.
IV: Agreed! Well, I think that's all we've got — I can't thank you enough for taking the time for us, really.
MBL: Rad! This was awesome! I love Three Imaginary Girls! Please keep up the good work! You all are fighting the good fight over there. It's amazing.
{Find our more about the new Telekinesis album here. MBL photo by none other than the de-lovely Sarah Jurado.}