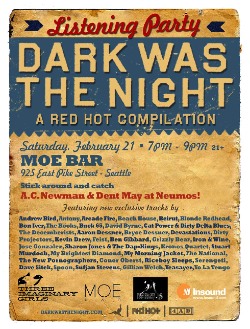 Three Imaginary Girls has joined forces with the folks at the Red Hot Organization, Insound.com, and 4AD to put together a Dark Was The Night listening party at the Moe Bar on Saturday, February 21st from 7pm to 9pm.
The night is free and will feature a chances for you to win your own copy of the Dark Was The Night album and good times. We'll be playing the double album set in its entirety.
The album features saa-weet tracks from a slew of indie favorites (Stuart Murdoch, Spoon, Arcade Fire, Sharon Jones & The Dap-Kings and tons more).
Not only that, it serves as a perfect pre-funk if you're headed to the A.C . Newman show at Neumo's (conveniently located right next door to the Moe Bar) (enter to win tickets to the A.C. Newman show from TIG).
If you want to sample the record ahead of time, check out the DWTN MySpace page where they are streaming some of the album's tracks until the release date (February 17th) or download this mp3 of a track supplied by Dirty Projectors + David Byrne.
See you at the Moe Bar on Saturday February 21st to hang out and listen to some stellar tunes! 
And here's the full track listing for those of us that love the details:
THIS DISC

1 Knotty Pine – Dirty Projectors + David Byrne
2 Cello Song (Nick Drake) – The Books featuring Jose Gonzalez
3 Train Song (Vashti Bunyan recorded, written by Alasdair Clayre) – Feist + Ben Gibbard
4 Brackett, WI – Bon Iver
5 Deep Blue Sea – Grizzly Bear
6 So Far Around the Bend – The National (arrangement by Nico Muhly)
7 Tightrope – Yeasayer
8 Feeling Good (popularized by Nina Simone) – My Brightest Diamond
9 Dark Was the Night (Blind Willie Johnson) – Kronos Quartet
10 I Was Young When I Left Home (Bob Dylan) – Antony + Bryce Dessner
11 Big Red Machine – Justin Vernon + Aaron Dessner
12 Sleepless – The Decemberists
13 Stolen Houses (Die) – Iron and Wine
14 Service Bell – Grizzly Bear + Feist
15 You Are The Blood – Sufjan Stevens

THAT DISC

1 Well-Alright – Spoon
2 Lenin – Arcade Fire
3 Mimizan – Beirut
4 El Caporal – My Morning Jacket
5 Inspiration Information (Shuggie Otis) – Sharon Jones & The Dap-Kings
6 With A Girl Like You (The Troggs) – Dave Sitek
7 Blood Pt 2 (based on original song "You are the Blood" by the Castanets) – Buck 65 Remix (featuring Sufjan Stevens and Serengeti)
8 Hey, Snow White (Destroyer) – The New Pornographers
9 Gentle Hour (Snapper) – Yo La Tengo
10 Another Saturday (traditional song) – Stuart Murdoch
11 Happiness – Riceboy Sleeps
12 Amazing Grace (traditional song) – Cat Power and Dirty Delta Blues
13 The Giant Of Illinois (Handsome Family) – Andrew Bird
14 Lua – Conor Oberst + Gillian Welch
15 When the Road Runs Out – Blonde Redhead + Devastations
16 Love vs. Porn – Kevin Drew