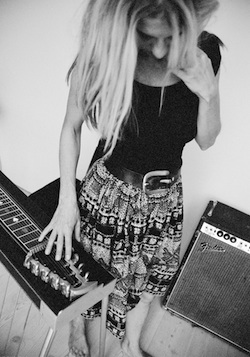 Sometimes record labels fall in love with someone at first sight (sound?) too. Danish pedal guitar angel Maggie Bjorklund was weaving steel around blood and whiskey singer-songwriter Mark Pickerel at SXSW, and beloved no-goddamned-depression-at-all super-roots Bloodshot felt their hearts throb as their ears glowed to her holy sounds.
They snatched her up and earlier this year we got the posh buffet of recorded delights known as the Coming Home album. On Wednesday, August 17, she teams up at the Triple Door with players all over the local indie-cowpoke musical map, being CoBirds Unite, Sangster Family Band, Whiting Tennis, and Katie Mullins. (A benefit for the Gilda's Club, starts at 7:30 pm, doors open at 6, all ages, and I haven't reviewed a single show for awhile, but this will be the one I scribe about besides festivals this summer.)
Working with smoke-and-velvet voiced vocal artists Mark Lanegan, Rachel Flotard, and Jon Auer, that first solo full length of Maggie's followed up her earlier European acclaim from playing with original group the Darleens (and for her collaborations with Lennart Ginman, Nils Skousen, Miss B. Haven, and others). The Praying Hands with Mr. Pickerel is still her home room, but she recently toured and recorded with glitter-gutter-goddess Exene Cervanka (of X) too.
Below is a recent chat between Maggie and I about what to expect that night at the Triple Door, where I like to sip my supper and sit through some of the very best shows in town (I've ever seen).
TIG: Maggie, this sounds amazing. Where does one band begin and the other end on that night, considering the collaborative background (and your work with so many who will be up on that stage)?
Maggie: More or less, Johnny Sangster (Tripwires, etc.) will be playing with me, as will the CoBirds. I will also play with the CoBirds, so it is kind of one big family!
You recorded three albums with the Darleens in the 90s — how was that compared to the collaborations you made for Coming Home?
MB: Darleens was a band, and as such it was joint work. I wrote the songs, but we arranged them in the rehearsing space. It was fun and frustrating as all team work can be. You have to respect other peoples point of view and feelings and that can be difficult when they are messing around inside your songs. It was fun and rewarding though.
With my new record it was a collaboration, but I had arranged the songs before we went into the studio. I let the other musicians give their input on their instruments, and I loved their contributions. But it was my producer Johnny Sangster and I that would look at certain songs and think, "Hmmm, maybe we need a theremin right here on this song!" and then go out and get it. I could carry out my musical vision with out having to compromise.
How did you meet Calexico's Joey Burns and John Convertino, who helped you with your solo debut? How did they get involved?
MB: As a pedal steel guitar player, you naturally seek out other pedal steel guitar players. There are so few of our species on the planet that we stick together whenever we meet each other. I am friends with Paul Niehaus, Calexico's steel player, and through him I was introduced to John Convertino and Joey Burns. I only met them a few times, but they said yes right away when I asked if they would join me on this project. I was very thrilled to be working with them. Such great musicians.
Was Bloodshot an important part of the reason you did the album — was it intended for release by them?
MB: I made the master and presented it to Bloodshot Records. I have worked with some of their artists before, Mark Pickerel, and knew them pretty well. I also new that it was a label I really liked because they are so respectful of their artists and do the job because of their love for music. I was very happy when we could work on the release together, and they have been absolutely great doing that job.
The other singers on the album — Lanegan, Flotard, and Auer — are all Pac NW legends (and nationally loved, too). Why were they chosen, and what do you like about each of their styles when pared with your unusually creative playing?
MB: I am so honored to have those singers on my album! Each of them are unique and fantastic artists. They were chosen because they are amazing. When working with people for the first time you never know if the chemistry will hold out once you're in the studio, or if my songs will work out the way I imagined, but I was blown away when we recorded all those songs. To me it really makes the album complete, to have all those different singers there. The bass, the tenor, and the alto. My album would not have been complete if I hadn't had those singers join me. It makes a good counter-weight to my steel playing.
Were you listening to any music in particular to inspire this record? I had very little to compare it to when I reviewed it. It seemed really unique, like you're own thing. Any albums/artists I'm not aware of that influenced it?
MB: Well, I listen to a lot of different music, from classical to pop, rock, folk, disco, Americana or country. You name it, I most likely listen to it. I do get inspiration from listening to things, but maybe I have succeeded in making my own simmering soup of those inspirations, that end up having my taste and flavor in there!
You were born and raised in Denmark? How long have you lived in the United States?
MB: I actually still live in Denmark, for different reasons. I travel a lot as you can picture. I would love to live in America some time, but that time is not right now.
Wow, it's an honor having you come over here for the Triple Door show this month! Thank you so much. Hey, when did you start playing pedal steel? And how did you use it before you were in the Darleens?
MB: I started playing about 10 years ago. It was not until the last Darleens album that I did so. When we broke up in that band, I sat down and practiced a lot on the pedal steel. I was touring with a lot of different artists in Denmark at that time, and was lucky to be able to play steel guitar with most of them. I was mostly known for being a guitar player so I had to sneak the pedal steel in there with the artists. But now , I am pretty much known as a pedal steel player and is used as such here in denmark.
How did you start working with Mark Pickerel and his band the Praying Hands?
MB: Believe it or not, Johnny Sangster used to live in Denmark and was for some years touring with Darleens as a guitar player. After he moved back to the Northwest, we kept in touch, and it was him that suggested that Mark Pickerel should have me play Pedal steel on his album. That was so much fun, and I am a great fan of Mark's music.
What brought you to Steve Fisk to help do session work on the albums he produces? Which of his and Johnny's records are you particularly fond of that you played on, and do you have work coming up that you've collaborated on as well?
MB: Steve Fisk I met when we did the Mark Pickerel album. I love those two producers. They are great at getting the best out of you. It is an art being a good producer. You need to know when to push the musician a little further, and when to not push. it seems they like how I play and I have been lucky they have asked me to play on various projects. I am very proud of Mark Pickerel's "Snake In the Radio". His songs are fantastic and it was great teamwork we had on it, produced by Steve. I am also really happy with the CoBirds Unite, an album that Johnny produced. I am absolutely crazy about Rusty Willoughby's songwriting. The whole album oozes of feeling and groove. I love it.
How is it different, working with Johnny, than working with Steve? Someone like me will buy anything that they produce or play on, so I'd love your thoughts about them.
MB: It is a hard question, because what I say about the one, I could pretty much say about the other too. I have known Johnny for many years now, and have always respected his enormous musical talent. I trust his opinions completely and he is very generous with sharing them with me. He is just fantastic to work with. Steve will let you mess about a little more, but he will afterwards extract the essence of your performance perfectly. He is a wizard at mixing. But then again so is Johnny. Two different people, equally fantastic to work with.
Will there be touring and another album in 2011? Or any other plans fans should be aware of?
MB: I am working on the touring side right now. I am also working on new music, whether it will come out in 2012 or later is too early to say yet.
Thanks, Maggie! Can't wait to see the show.
MB: You're welcome! It will be a fun night for sure.
Photo of Maggie Bjorklund borrowed from her Facebook page.