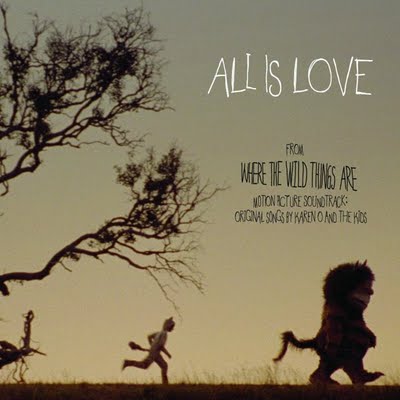 To complement his re-imaging of the children's classic Where the Wild Things Are (which I am so! excited! about!!!), Director Spike Jonze chose Karen O (from Yeah Yeah Yeahs – as if you didn't already know that) to create the soundtrack. Ms. O promptly rose to the challenge, inviting many of her rockin' friends to join in for this adventure.

From the Karen O and the Kids MySpace page:
To compose the music, O enlisted friends and fellow musicians she believed had a musical intuition that would bolster her intent to marry sound to vision. These include Tristan Bechet (Services), Tom Biller (co-producer with Karen O and member of Afternoons), Bradford Cox (Deerhunter), Brian Chase (Yeah Yeah Yeahs), Dean Fertita (Queens of the Stone Age, The Dead Weather, The Raconteurs), Aaron Hemphill (Liars), Greg Kurstin (The Bird and the Bee), Jack Lawrence (The Dead Weather, The Raconteurs, The Greenhornes), Oscar Michel (Gris Gris), Imaad Wasif (New Folk Implosion, Alaska), Nick Zinner, (Yeah Yeah Yeahs) and an untrained children's choir.
Sounds fantastic, right? And if the pre-released single "All is Love" is any indication, I'm positive they've got a hit on their hands:
[Video:http://www.youtube.com/watch?v=rAfcBwYuNDU&feature=fvw]
{The Where the Wild Things Are Motion Picture Soundtrack is available now. You can also buy and download from iTunes, or Amazon.com.}