Editor's note: Seattle has some of the most picturesque vistas (most of which are found within local clubs like Chop Suey and the Comet Tavern). It's no surprise that TIG photographer Kyle Johnson has a stack of photos he loves that have been taken by some of Seattle's finest photographers.
(Here's a recap of Kyle's Top Ten 2008 live photos from his own portfolio)
Here's a recap of Kyle's Top Ten: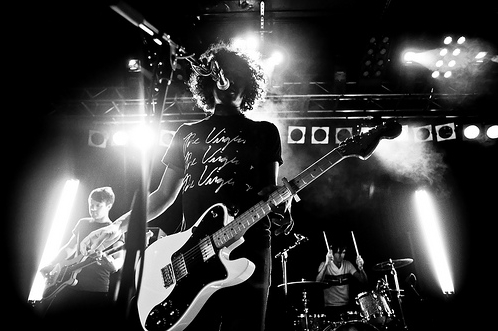 Black Kids at Neumos by Chona Kasinger  
This is just a truly bad ass rock & Roll photograph. The black and white works so well. Chona got the perfect balence, lighting, composition, and mood. Makes me wish I was at this show.
The Flaming Lips Live at Sasquatch Festival by Christopher Nelson
A photo like this shows why the Lips are known for their stage spectacle. Chris was in the heart of the action and got the perfect shot. I love the use of the wide lens here.
The Mars Volta at Sasquatch Festival by Pushbuttonart.com
Right place, right time. I think her shot was the best of this fiasco out of all the photographers present.
The Black Keys at Bumbershoot by Hillary Harris
A band Ive always loved and had never seen live. Hillary's shot showcases the energy I always imagined seeing them display at a show. Great lighting and action.
Damien Jurado at the Triple Door by Sarah Joann Murphy
Maybe its because its her husband but this photo really hits me. Feels like a dream. The angle really shows off the dramatic Triple Door Stage and hones in on the power of a solo Damien Jurado.
Battles at Bumbershoot by Andrew Waits
Battles was my favorite live band of 2008. Having the pleasure of shooting them twice this summer, I can vouch that even a great photo can't capture the true energy and sound the put on live. Andrew comes as close as possible though. Such a great angle and moment.
Tegan And Sarah at Sasquatch by Vera Pashkevich
I love the up close tight crop of this shot. The tone and mood are perfect. Definitely sticks out among the rest that sunny Sasquatch afternoon.
Neil Young at Key Arena by Laura Musselman
The use of BW really captures the iconic figure that is Neil Young. I'm so jealous of Laura for getting to shoot this show. She did an incredible job.
 Helio Sequence at Neumos by Steve Louie 
He's still my favorite drummer to watch on stage. This photo captures that energy and those funny faces that make a Helio Sequence show so fun. Great composition as well.
MAD RAD AT Chop Suey By RabidChild Images 
MAD RAD is all about the performance. This is a perfect use of a wide angle lens. So much to take in. Crowd, Outfits, Performers, and more…The Black and White almost makes it more interesting. The lack of color makes me take in each part of the photo.