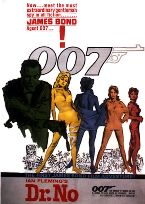 SIFF Cinema's United Artists Series continues this week, and the kind folks at SIFF are offering one last chance to win a pair of tickets. This time to the first James Bond flick, Dr. No, screening this Sunday.
Simply email [email protected] with "TIG SIFF tix Dr No" in the subject line (and your full name somewhere in the body of the mail) for your chance to win. (Email addresses will not be shared or sold.)
Sunday, May 18
Dr. No
2:00pm, 6:00pm
Although thought of as the first, this was actually James Bond's second screen appearance. In 1954, a live TV production of Casino Royale was broadcast on CBS's Climax Mystery Theatre with Barry Nelson (?!) playing Bond and Peter Lorre as the villainous Le Chiffre. Almost exactly eight years later, Dr. No premiered and the name James Bond would forever be owned by Sean Connery. Ian Fleming's spy with a license to kill matches wits with a diabolical scientist in Jamaica who's bent on sabotaging American missiles. Directed by Terence Young. (1962, 110 min.) New 35mm print!
Climax Mystery Theatre? Whoa.
Anyway, enter! Win!