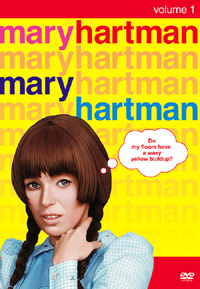 I'm completely smitten with this long-lost '70s show, and with the first of what will be a 13-volume full-series DVD set.
Set in the fictional small town of Fernwood, Ohio, the series starred Louise Lasser (a former Mrs. Woody Allen, and a regular in his earlier films) in the title role, plus Dody Goodman as her hilariously dotty momma, and would-be indie film queen Mary Kay Place as Mary's neighbor, an aspring country singer named Loretta Haggers. These three (imaginary girls!) consistently stole the show from the assorted dads and husbands and kids. Martin Mull and Dabney Coleman eventually joined the cast, too.
The half-hour show aired 5 times per week (!) from January 1976 to March 1977. There were 325 episodes produced; volume 1 of the DVD set contains the first 25 and was released this week.
Created by All in the Family mastermind Norman Lear, it was viewed as an oddity at the time but has achieved cult status over the years. Think Soap meets Twin Peaks, with Swiss Miss braids and lots of '70s corporate branding. Yeah.
From Wikipedia:
"Lear conceived Mary Hartman, Mary Hartman as satire, but it was viewed as so controversial that many stations aired it well after their 11 P.M. newscasts. The irony was that while Mary Hartman, Mary Hartman dealt with many of the same topics found in episodes of daytime soap operas, the topics were called by their names (impotence, sexual perversion) instead of being referred to in the hushed tones and euphemisms typically favored by 'straight' soaps; all the while the cast had their tongues firmly planted in their cheeks. For this reason, the series was even more controversial than it might otherwise have been."
From my mom:
"That was a crazy show. I mean, out there."
I must agree. It's generally deranged, and the shit that goes down is just weird. And great. I'm only six episodes in, and already the good people of Fernwood have dealt with an elderly flasher, a mass murderer, marital infidelity, male impotence (pre-Viagra, natch), and, um, waxy yellow build-up. (Watch the show. You'll understand.)