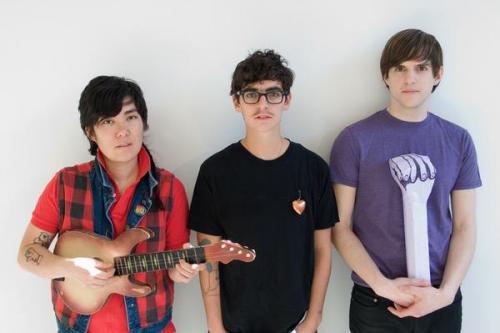 Last time MEN came through town, they were a DJ duo of JD Samson and Johanna Fateman – basically Le Tigre sans Kathleen Hanna.
Since then, they've expanded and started making their own music. The press release I had gotten says:
MEN is a Brooklyn-based band and art/performance collective that focuses on the energy of live performance and radical potential of dance music. Comprised of JD Samson (Le Tigre), Johanna Fateman (Le Tigre), Michael O'Neill (Princess), Ginger Brooks Takahashi (The Ballet) and Emily Roysdon, the group speaks to issues such as wartime economies, sexual compromise, and demanding liberties. Propulsive, literate, and subtly complex, their songs draw upon the history of subversive music, from Talking Heads to Timbaland, to create a breathless, future-minded sound.
Am I the only guy who loves how a handful of arty lesbians are claiming the tag "men"? The other example is the great new album from The Gossip, Music for Men.
MEN are playing at Chop Suey on Tuesday night with Your Heart Breaks and (another one of my favorite duos) Team Gina. ($10 adv/$12 DOS, doors at 8pm, 21+)
In more Le Tigre news, Pitchfork said that the band (including Kathleen Hanna) is working on the next Christina Aguilera album. This is also after it was reported that Ladytron and Goldfrapp are also contributing, making this my most anticipated bubblegum pop record ever.