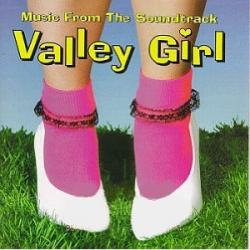 Okay, so maybe picking only 5 at first was in ERROR. As it turns out, I have way more soundtracks in my possession that I wouldn't be able to let go of – so here we again, with part 2 of the movie tunes that make me groove.
Valley Girl:
Oh hey! It's another 80s soundtrack. Shocking, I know. But this one is simply fantastic! Just like the movie. It's a nice little gathering of 1980s New Wave, with some pop thrown in for balance. The Plimsouls made their way into my heart after hearing them in this film, and VG is also responsible for my obsession with the Psych Furs – and of course, the instant mega-hit "I Melt with You" by Modern English. The Josie Cotton songs (though no longer P.C.!) are a whole lot of fun too.
There's also a second "More Music from" soundtrack from this movie that emerged later – with Toni Basil, Bananarama, the Thompson Twins, and Culture Club.
Track Listing:
A Million Miles Away – The Plimsouls
Johnny, Are You Queer? – Josie Cotton
Eyes of a Stranger – Payola$
Angst in My Pants – Sparks
Who Can It Be Now? – Men at Work
Everywhere at Once – The Plimsouls
I La La La Love You – Pat Travers
He Could Be the One – Josie Cotton
Love My Way – The Psychedelic Furs
Jukebox (Don't Put Another Dime) – The Flirts
She Talks in Stereo – Gary Myrick and The Figures
Oldest Story in the World – The Plimsouls
School Is In – Josie Cotton
I Melt with You – Modern English
Singles:
Of course I LOVE this movie. It's a Cameron Crowe film (back when he was still awesome), and it's in Seattle, and I used to live like 3 blocks from the apartment complex where it was filmed and walk by it frequently and smile, looking for the exact spot on the roof where Bridget Fonda sun-bathed, and wishing they still had the fountain there. But more importantly, this soundtrack captured the grunge-filled sound of the city at the time, with Pearl Jam and Soundgarden and Mother Love Bone.
That said, even though I heart all the tracks on this soundtrack, it should come as no surprise that my favorites are the two Westerberg tunes, and the lovely Smashing Pumpkins single (grunge lovers – please don't throw things at me! I am still traumatized by my boyfriend at the time — who insisted we play PJ 24 hours a day).
Track Listing:
Would? – Alice in Chains
Breath – Pearl Jam
Seasons – Chris Cornell
Dyslexic Heart – Paul Westerberg
The Battle of Evermore – The Lovemongers
Chloe Dancer/Crown of Thorns – Mother Love Bone
Birth Ritual – Soundgarden
State of Love and Trust – Pearl Jam
Overblown – Pearl Jam
Waiting for Somebody – Paul Westerberg
May This Be Love – The Jimi Hendrix Experience
Nearly Lost You – Screaming Trees
Drown – Smashing Pumpkins
Pump Up the Volume:
TALK HARD. I was a few years out of High School when this teenage rebellion movie came around, but the message still resonated with me. Stop doing what you're supposed to, and do what you WANT TO. Man, if only I'd taken that more to heart…but, uh, anyway. In addition to having a super-cute cast, maverick radio host Hard Harry (dreamy, dreamy Christian Slater) served up some pretty boss tunes.
I was already deep into Concrete Blonde love due to the movie The Hidden, and though I had heard Pixies tracks before, this is the thing that got me WAY back into them. Not to mention Sonic Youth, and a revisitation of Peter Murphy (including the entire Bauhaus catalog).
Track Listing:
Everybody Knows – Concrete Blonde
Why Can't I Fall in Love? – Ivan Neville
Stand – Liquid Jesus
Wave of Mutilation (UK Surf) – Pixies
I've Got a Secret Miniature Camera – Peter Murphy
Kick Out the Jams – Bad Brains with Henry Rollins (!!!)
Freedom of Speech – Above the Law
Heretic – Soundgarden
Titanium Expose – Sonic Youth
Me and the Devil Blues – Cowboy Junkies
Tale O' the Twister – Chagall Guevara
Clueless:
Aw, Cher! Amy Heckerling's retelling of Jane Austen's Emma fills me with glee. I serious think it's one of the best comedies of all time – and definitely the best "update" of an Austen story. The casting is perfect, and the soundtrack is pumped up with mid-90s hits and some pretty sweet covers. Some of my faves from this one are Jil Sobule's catchy "Supermodel" (I'm not gonna eat today, and I didn't eat yesterday, and I'm not gonna eat tomorrow – cos I'm a SUPER MODEL!), "All the Young Dudes", "Need You Around", and (brace yourselves) "Rollin' with My Homies".
Track Listing:
Kids in America – The Muffs
Shake Some Action – David Lowery
The Ghost in You – Counting Crows
Here (Squirmel Mix) – Luscious Jackson
All the Young Dudes – World Party
Fake Plastic Trees (Acoustic Version) – Radiohead
Change – Lightening Seeds
Need You Around – Smoking Popes
Mullet Head – Beastie Boys
Where'd You Go? – The Mighty Mighty Bosstones
Rollin' With My Homies – Coolio
Alright – Supergrass
My Forgotten Favorite – Velocity Girl
Supermodel – Jill Sobule
Nick & Norah's Infinite Playlist:
First of all, I want Michael Cera and Kat Dennings to star in every movie ever as the perfect couple, because they are both so awesome. Secondly, the book this movie is based on is REALLY REALLY GOOD. Thirdly, the soundtrack perfectly complements the angsty teenage storyline of two kids feeling bad about getting dumped, and posturing their way through a new romance by trying to act "cool" and impress/one-up each other with their musical knowledge – all over the course of 24 hours.
This particular soundtrack is the thing that made me dive further into The Submarines catalog, as well as check out more stuff from both the Shout Out Louds and Vampire Weekend. I'm also very fond of "Lover" by Devendra Banhart – it's just one of those songs you can't not dance to.
Track Listing:
Speed of Sound – Chris Bell
Lover – Devendra Banhart
Middle Management – Bishop Allen
Ottoman – Vampire Weekend
Riot Radio – The Dead 60s
Fever – Takka Takka
Xavia – The Submarines
After Hours – We Are Scientists
Our Swords – Band of Horses
Silvery Sleds – Army Navy
Baby You're My Light – Richard Hawley
Very Loud – Shout Out Louds
How to Say Goodbye – Paul Tiernan
Last Words – The Real Tuesday Weld
Nick & Norah's Theme – Mark Mothersbaugh