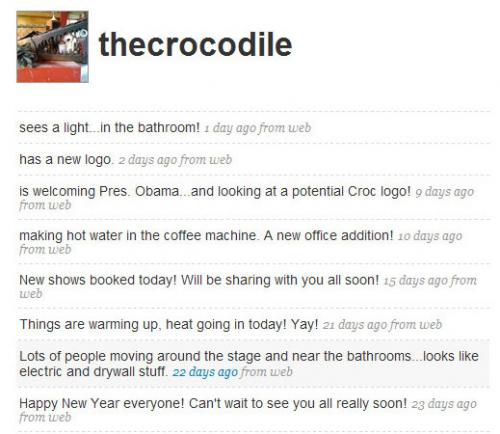 Festival-worthy numbers of performers, artists, bands, clubs, and labels are joining the Twitter party. What started as a way to answer the question of friends, "What you are doing?", Twitter is becoming the "it" thing for music types to develop and retain fans.
Why Twitter? The 140-character limit and mobile-friendly posting means more artists are giving it a go. Texting a "tweet" is radically faster than a blog post, website update, MySpace edit, or email newsletter. A tweet can be sent with any text-enabled phone. Artists are tweeting from the road, during tours, in studio, and really, anytime the urge hits.
Fans have never before had access like this: it's like a backstage pass with benefits. Closeness — or, rather, the illusion of closeness — offered by Twitter can translate into an increase in loyal fans and more successful touring.
 Listed below are a few  from the music biz I've noted and keep an eye on. Trust me, there are more.
Who do you follow on Twitter? Add your recommendations in the comments, please, and we might just compile a who's who list for all you tweeps. 
 
The Crocodile Cafe
Venue news
very infrequent at the moment, will likely pickup once the club opens
http://twitter.com/thecrocodile
Colin Meloy (The Decemberists)
Personal commentary
1 or 2 a day
http://twitter.com/colinmeloy
Adam Freeland
Personal commentary
3 – 5 a week
http://twitter.com/adam_freeland
Evil Nine
Personal commentary
3 – 5 a day
http://twitter.com/Evil_Nine
Atrak
personal commentary
high frequency
http://twitter.com/atrak
Diplo
personal commentary
3 – 5 a day
http://twitter.com/diplo
Death Cab for Cutie
news from blog, "unofficial"
0 – 3 a week
http://twitter.com/dcfc
SubPop Records
announcements
very infrequent, just came out of hibernation
http://twitter.com/subpop
Marine Parade Records
announcements
1 every two weeks
http://twitter.com/marineparade
Vice Magazine, UK
Personal commentary and news headlines
high frequency
http://twitter.com/viceuk
Pitchfork Media
claimed but inactive, may not be official
http://twitter.com/pitchforkmedia
Stereogum
claimed but inactive, may not be official
http://twitter.com/stereogum
NME Magazine
blog headlines (all)
high frequency
http://twitter.com/NMEmagazine
KEXP
blog headlines (all)
high frequency
http://twitter.com/kexp
Thee Imaginary Girls
Site and blog headlines (selective)
a few times a week
http://twitter.com/3imaginarygirls