I can't think of a better start to my Wednesday than an email asking me if I want to post about Death Cab for Cutie.
I can, actually. When said email contains news about DCfC's involvement with the commemorative Obama inauguration CD-DVD, and tour dates, and a gorgeous Walter Robot video for "Grapevine Fires" that I got to watch over my first cup of coffee this morning — that certainly kicks things up a notch. Heightened only by the fact that all of this has transpired on a regular old weekday, in the city I now call home: Seattle. Good morning, indeed.
Let's have a read, shall we? [With peanut gallery.]
DEATH CAB FOR CUTIE LIGHT A FIRE WITH NEW VIDEO; INGENIOUS ANIMATED CLIP FOR "GRAPEVINE FIRES," SPRING TOUR BEGINS APRIL 7TH IN UPPER DARBY, PA

[Really? Did you hear that? Spring Tour. Gush.]

Barsuk Atlantic recording group Death Cab for Cutie has unveiled a must-see new video for "Grapevine Fires," one of the stand-out tracks on their RIAA gold certified [snap] Grammy nominated [two snaps] Narrow Stairs. The animated clip, directy by Walter Robot, a.k.a. the team of multimedia artist Bill Barminski and writer Christopher Louie.

"Grapefine Fires" was initially inspired by DCFC vocalist / guitarist Ben Gibbard's up close & personal encounter with 2007's California wildfires. The song — which was recently included on Change is Now: Restoring America's Promise, the official commemorative CD-DVD set celebrating President Barack Obama's historic inauguration — motivated Walter Robot to create an animated short film which brilliantly relays the sense of devistating tragedy and forced optimism caused by the fire's wrath.
After watching the short film / animated clip, I was even more enamored by the poignant accuracy of that last sentence. See for yourself:
And that's not all…
Fresh off the plane from headlining tours in Australia and Japan, Death Cab is turning around and heading right back out for a US tour. Opening support from Cold War Kids, Ra Ra Riot, and Matt Costa (and stops in Bellingham and Spokane):
4/07 Upper Darby, PA: Tower Theatre
4/08 Washington, DC: DAR Constitution Hall
4/09 Davidson, NC: John Belk Arena / Davidson College
4/11 Memphis, TN: Orpheum Theatre
4/12 Tulsa, OK: The Brady Theater
4/13 Omaha, NE: Holland Theatre
4/15 St. Paul, MN: Roy Wilkings Auditorium
4/17 Chicago, IL: Aragon Ballroom
4/18 East Lansing, MI: Breslin Events Center / Michigan State University
4/19 Waukesha, WI: Van Male Fieldhouse / Carroll College
4/22 Bellingham, WA: The Mount Baker Theater
4/24 Spokane, WA: McCarthey Athletic Center / Gonzaga University
4/25 Boise, ID: The Mortenson Center
4/27 Sacramento, CA: Memorial Auditorium
4/29 San Diego, CA: RIMAC Arena / UC San Diego
5/01 Austin, TX: Austin Music Hall
5/02 New Orleans, LA: Contemporary Arts Center
5/04 Nashville, TN: Ryman Auditorium
5/05 Birmingham, AL: BJCC Concert Hall
5/06 Atlanta, GA: Fox Theatre
5/07 Orlando, FL: Hard Rock Live
(See the DCfC tour page for specfics, as all of the opening acts aren't all on every night's bill.)
I took a peek at the Bellingham show, and it's actually two nights, already sold out. In a sit-down, gorgeous looking Paramount-esque kind of place. Not knowing too much about these other venues, I'm going to go out on a limb here and say that there's definitely a propensity this leg of the tour for more intimate campus-housed settings. Always a treat for fans of a national act.
Sans pyrotechnics, as we all witnessed at Bumbershoot last year.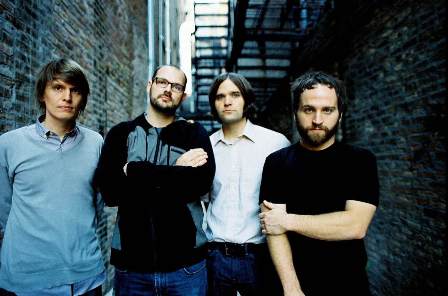 Don't miss Cold War Kids next month at the Showbox, unless you're heading out to Bellingham, on April 22nd. And check out Ra Ra Riot's most recent set at Neumo's with the lovely Telekinesis!, as reported by KEXP.