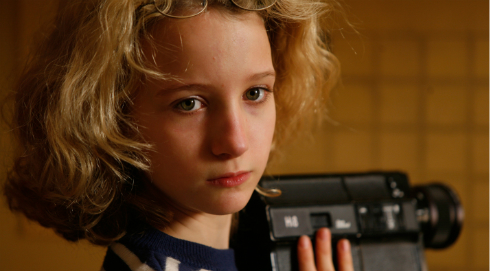 Just when you thought SIFF 2010 was a thing of the past, SIFF Cinema has announced a special three-day, 14-program selection of festival award winners and audience faves, set to unspool this weekend.
SIFF-fatigued as I still am, I'm actually glad to have another chance to check out a few films my calendar couldn't accommodate during SIFF proper. Namely the big-buzz documentaries that tied for the Golden Space Needle award, Waste Land and Ginny Ruffner: A Not So Still Life.
Anything you missed at this year's local cinema-bration but wish you hadn't? Or did SIFF not make it onto your calendar at all this year? Here's your chance to catch up!
The lineup:
Friday, June 18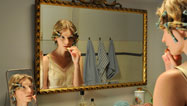 2:00 PM: The Reverse
Best New Director – SIFF 2010 Grand Jury Prize
A darkly comic story of three generations of Polish women and the mysterious young man whose presence sparks a series of surprising, life-changing events. This film played early in the festival and racked up several trophies (at the Gdynia and Warsaw Film Festivals, among others) before landing in our fair city. Per Amie Simon's SIFF Take: "the fun of viewing this one lies in piecing the events of past and future together."
4:30 PM: Castaway on the Moon
Heartbroken and destitute, Kim Seong-geun jumps off a bridge, washes up on a small island, and must resign himself to life in the wild. A reclusive young woman in the city finds his sand-scrawled messages through her telescope, sparking a series of primitive communications between the two social castaways. Amie Simon recommended this South Korean misfit love story and predicted: "you'll find yourself caught up in their fantasy world and hoping they find their way to each other."
7:00 PM: The Hedgehog
Best Film – SIFF 2010 Golden Space Needle Audience Awards
Fed up with her family and disillusioned by life's hypocrisies, 11-year-old Paloma plans to end her life on her next birthday. For her remaining 165 days, she films her gilded Parisian apartment building world, discovering that some of its inhabitants (including surly-but-brilliant concierge Renée) are not who she judged them to be. I was completely enchanted by this film, and most impressed with the filmmakers' choices in transitioning the beloved source novel The Elegance of the Hedgehog to the big screen. A worthy Golden Space Needle recipient.
9:30 PM: Leaves of Grass
One of only three American features in the weekend program, this new indie was the main "Tribute to Ed Norton" offering but eluded the TIG staff altogether. It follows an Ivy League professor (Norton) who's lured back to his Oklahoma hometown by news of a family tragedy; he quickly learns that his pot-dealing brother (also Norton) is in trouble with the local crime boss. According to The Stranger's Paul Constant, the story "has the structure and the elements of a classical Greek drama: There's treachery, mistaken identity, deadly plots, and ambition; that it takes place in the middle of Oklahoma is almost irrelevant."
Saturday, June 19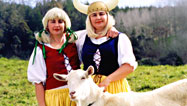 11:00 AM: The Topp Twins: Untouchable Girls
Lena Sharpe Award for Persistence of Vision
Festival buzz for the "yodeling lesbian twins" documentary was well-earned. After 30 years of campy humor, political protest, and sweet country singin', sisters Jools and Lynda are New Zealand's Topp (heh) entertainment export. ChrisB loved this funny, zippy doc; according to him, it's "so devoid of any cynicism throughout that it's either a large annoyance or complete pleasure to watch. He chose the latter, and I concur.
1:00 PM: Ginny Ruffner: A Not So Still Life
Best Documentary (tie) – SIFF 2010 Golden Space Needle Audience Awards
This mysterious World Premiere was off the TIG staff's radar, but festival buzz after it screened was intense. Per the SIFF catalog: "An inspiring testament to the tenacity and brilliance of Seattle artist Ginny Ruffner's revolutionary artistic achievements, as well as her miraculous and determined recovery from a near-fatal car accident. This is sure to inspire you see the world from a new and unexpected perspective."
3:30 PM: Hipsters
This colorful, energetic, very entertaining musical won seven Russian Academy Awards and has collected festival accolades around the globe. It takes place in mid-century Moscow and follows a group of splashy young swing-dancers (with gorgeously warped perceptions of American fashion trends) as they resist the wrath of the grim Soviet majority. Wrapped in the infectiously fun, MGM-inspired song-n-dance flick is a tender love story with a strong message against following the herd. A SIFF 2010 highlight.
6:30 PM: Nowhere Boy
This British fiction film covers the teenage years of John Lennon, and his short but intense reconnection with his flighty, alluring mother, Julia, as he takes his first faltering musical steps along the road to Beatledom. We missed it, but The Stranger's David Schmader singled out Kristin Scott-Thomas's fine performance as John's tenacious aunt and called the film "a rich and subtle portrait of a fractured family."
9:00 PM: Cell 211
Best Actor, Luis Tosar – SIFF 2010 Golden Space Needle Audience Awards
This gritty, riveting Goya Award winner focuses on two men trapped on opposite sides of a prison riot: Malamadre (scary Tosar), the brutal inmate leading his fellow prisoners, and Juan (handsome Alberto Ammann), a newly hired prison guard who suddenly finds himself going deep undercover to survive the revolt. This is a knockout action flick, and, yes, kinda hot in an Oz way.
Sunday, June 20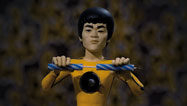 11:00 AM: Best of SIFF Shorts
A selection of Audience Favorites and Jury-award winners, including Little Accidents (Narrative Jury prize), Ormie (Golden Space Needle, Best Short), and The Wonder Hospital (Animation Jury prize). I saw two in this package: Say Me (grating Spanish trifle about a recently-single guy with too much time on his hands) and Off Season (effectively creepy story about a burglar and a shuttered summer cottage).
1:00 PM: Waste Land
Best Documentary (tie) – SIFF 2010 Golden Space Needle Audience Awards
This Sundance and Berlin audience winner follows photographer Vik Muniz as he returns to his Brazilian homeland to develop an art project in the world's largest garbage dump. According to The Hollywood Reporter, it's "a joy to watch", "transcends the artist-doc format", and "has a broad emotional appeal."
3:30 PM: The Concert
Mon Dieu. This cockamamie French flick follows a former (disgraced) Bolshoi Orchestra conductor, now working as a janitor, as he stumbles upon an invitation to play in Paris and schemes with a motley bunch of former friends to return to the stage. Nearly every scene that doesn't include the lovely and talented Mélanie Laurent (of Inglourious Basterds), as the acclaimed violinist who has a mysterious connection to the janitor-conductor, made me cringe. And not in a good way. Laurent seems to be in her own film — a good film — while the rest clunks along; the uplift of the concert in the final act is what's winning over audiences. But I'm not so forgiving, and in my opinion this one's the most skippable of the bunch.
6:00 PM: Mao's Last Dancer
Australian Bruce Beresford (Driving Miss Daisy) directed this true story of a classical dancer in communist China who ends up earning a place as a cultural exchange student at the Houston Ballet; it's another one we didn't get to. Time Out Australia calls the dance sequences "an added visual treat in a film with an embarrassment of riches."
8:30p: Marwencol
Best Documentary – SIFF 2010 Grand Jury Prize
One of my favorite documentaries of 2010 and a worthy Jury Prize recipient. Recovering from a brutal attack that robbed him of 38 years of memories, accidental artist Mark Hogancamp creates dioramas of the fictional World War II Belgian town of Marwencol in his backyard (using GI Joes and Barbies and the like), then photographs them to stunning effect. It's an engrossing, surprising piece of nonfiction cinema that speaks volumes about the healing power of art.