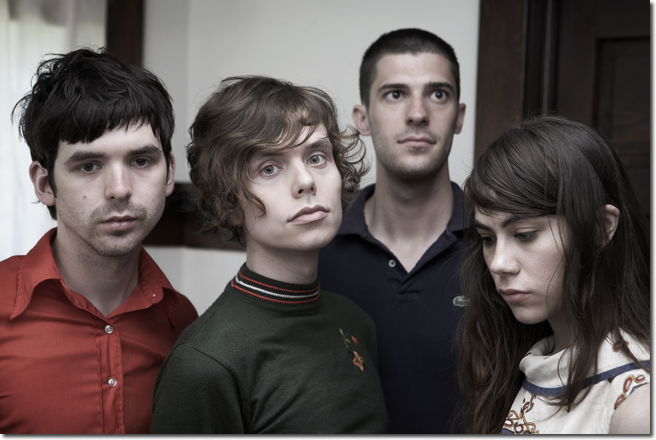 During the holidays, the Parenthetical Girls released a feisty vinyl 45 The Christmas Creep with two songs, a Sparks cover (the viciously witty "Thank God It's Not Christmas") and their own awesome anthem, "Flowers For Albion." (Consider it a double A side.) This was preceded by a generous EP, a strange melange of spoken word and singalong art song dedicated and based on the lyrics of the acerbic, angsty Jewish Glasgow word-lover/performer Ivor Cutler.
I was pretty satisfied by these flirting releases, being a transfixed fan of the band's die young stay pretty passion plays and morbid preoccupations with the language of the body, performed more melodically bracing and compositionally daring since their crucial album Entanglements (2008).
They might dread such a modern comparison, but think of the Parenthetical Girls as the David Foster Wallace of indie rock; a peculiar, acquired taste that a fan would insist should be universal, but probably will be due to their boldness in music and marketing. Sometimes their arcane musical footnotes bring more pleasure than whole albums by more accessible "craftsmen," and even when things get wordy and mystical the wild sweep of emotion brings the listener back.
But where are the originals I've been craving since Entanglements? It seems the above were butterfly kisses to a full seduction.
Now my mind has been ripped open and my fingers tingle, as visionary-vocalist Zac Pennington, Rachel Jensen (multi-instrumentalist), and Jherek Bischoff (producer/co-composer) are unbosoming a series of five 12 " EP releases that will pool into a magnum opus LP box set by May, 2011.
Feeling like A Little Death on the Installment Plan, Privilege is teasing fans with four song chapters beginning with the February 23, 2010 release of On Death & Endearments. Like the other releases to be promenaded out, it will be numbered in blood by the band, and feature the strangely hypnotic illustration skills of Jenny Mörtsell (who has an umlaut over the "o" in her last name because she is from Sweden). The first batch of tunes feature no stirring strings, but are electronically driven like their earlier work, just more deep and moving as the band's sound has evolved and sprouted scrambling legs. Pennington himself seems to be on a bit of a Jeremiad, stretching out the paradox of his "alluring rant" style.
You can find an mp3 and a video from On Death at Stereogum giving you a taste of the new post-orchestral, "maximallist" Parenthetical Girls, at last revealing more of their ontological manifesto of corrupted youth and orgasmic riots set to scratchy soul 45s and warped new wave dance remixes.
Track listing for the first EP: "Evelyn Hale," "Someone Else's Muse," "On Death & Endearments," "Found Drama 1." It will be available on vinyl and through digital download only.