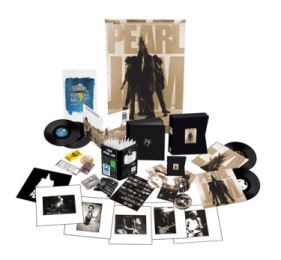 Grunge granddaddies Pearl Jam announced today that they're remastering their entire back catalogue, starting with their 1991 debut, Ten. Set for release on March 24th, the reissue will feature the original album in remastered form and a "remixed" version from original producer Brendan O'Brien, along with six bonus tracks from the Ten era. There's no word on a Justice-influenced dance remix of "Once," thankfully.
The release comes in four different flavors, including a vinyl release, a CD release accompanied by a DVD of the band's awesome Unplugged performance and a super-duper-maxi-ultra-fancy package.
Seriously, that last one is a huge collection for the diehard fan. Dig it, straight from the press release:
Super Deluxe Edition (2-disc set plus DVD, 4 LPs and replica cassette in linen-covered, slip-cased clamshell box):
· Disc 1: original Ten tracklisting digitally remastered (original mix)
· Disc 2: original Ten tracklisting digitally remastered and remixed by Brendan O'Brien, plus six bonus tracks: "Brother," "Just a Girl," "State of Love and Trust," "Breath and a Scream," "2,000 Mile Blues" and "Evil Little Goat"
· DVD of Pearl Jam's previously unreleased 1992 MTV Unplugged performance including never before seen bonus performance of "Oceans" with 5.1 surround sound audio remix
· LP 1: original Ten tracklisting remastered for vinyl
· LP 2: original Ten tracklisting remastered for vinyl and remixed by Brendan O'Brien
· LP 3 & 4: Drop in the Park – Live at Magnuson Park in Seattle on September 20, 1992 (audio mixed by Brendan O'Brien)
· Cassette: replica of original "Momma-Son" Pearl Jam demo cassette featuring "Alive," "Once" and "Footsteps"
· Package also includes an Eddie Vedder-style composition notebook filled with replica personal notes, images and mementos from the collections of Eddie Vedder and Jeff Ament, a vellum envelope with replicated era-specific ephemera from Pearl Jam's early work and a two-sided print commemorating the Drop in the Park concert.
Throw in an Eddie Vedder lunch box and I'm all set. Preorders for the mega-pack start today at PearlJam.com.
While Ten isn't my favorite PJ album — that distinction falls to Yield, which continues to mesmerize me today — it's awesome to see such an important album get this kind of treatment. Ten and In Utero were the first CDs I ever bought and both were tremendous, defining moments in my development as a rock nerd. There's just enough new content here, even in the more basic versions, to make me drop some coin. I can't wait to hear what O'Brien does for the new mix.
What else should be given to Ten treatment? What seminal Seattle albums deserve the double-dip? Let us know in the comments below.