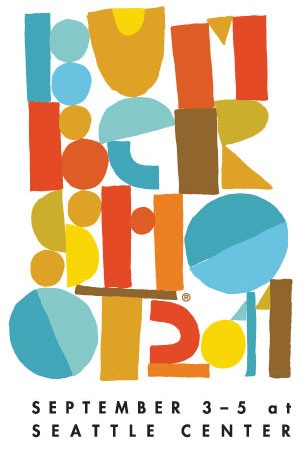 Labor day weekend can be a sad occasion marking the end of Seattle's sorta summer. For music fans of course it's an all you can eat buffet of live music goodness. If you didn't know Bumbershoot also included a pretty kick ass short film festival as well, you wouldn't be alone. But I'm here to tell you that your Bumbershoot ticket buys any number of chances to enjoy some air conditioned comfort with some high quality bite sized doses of cinema magic. SIFF Cinema will be busy all weekend long with a program curated by the same folks who bring The Seattle International Film Festival to town. Each program is themed so you can choose a subject area that works best for you – whether you're down for Nerds Unite! or Family Funtime there's something for everyone. I've seen at least twenty of the films so far and based on that can heartily recommend a strong program running from the brilliant to the brilliantly weird (and occasionally twisted). It's enough to justify Bumbershoot tickets even if you don't have a yen for the music. Though there's still plenty of time to catch a few shows after the films.
Below I've included some notes on some of the best of the shorts I've already seen. I tried to call out the standouts in a variety of different programs throughout the weekend. I'll be staking out some ground over the long weekend in SIFF Cinema to try and catch up on the rest.
Hope to see everyone there…
The Legend of Beaver Dam – a must see for fans of genre horror musical numbers. That may be a small club – but if scary, funny and great music sounds good this one's for you. On a camping trip one of the worst counselors of all time begins an evening musical retelling of the legend of "stumpy Sam" a one armed crazed killer who lurks in the woods. Things get intense, and musical in unexpected ways.
Cataplexy – one of my faves of SIFF Shortsfest as well as STIFF this year makes a return appearance in Seattle. An awkward start to an evening sets the stage when a fellow's ordered in companion turns out to be an old classmate. Things go in a somewhat predictable but satisfying direction. I don't want to say more, but for me a well calibrated piece of mini meet-cute, high concept romantic comedy. I met the director when he came through town earlier this summer for SIFF. The fact that the whole thing was done as part of a 48 hour challenge makes it even more impressive.
The Dungeon Master – falls into the category of powerful cautionary tale and wisely suggests you taunt geeks at your own peril. The 2/3 of the film devoted to setup is well worth the payoff.
Time Freak – the final film in the session is a fun take on time travel that points out just how hard it is to get a personal interaction right, even when you have A LOT of prior knowledge to work with. ]
The Burning Wigs of Sedition – if you like bizarre, dance offs with a touch of glitz and period costumes (mixed with a serious dose of WTF) you could probably do far worse than this one. There are also pirates. Just saying…
Chum – brings a nice noir-ish "you get what you deserve" twist to the weekend while answering the question "why is there so much blood in the swimming pool?" Of course if you have to ask that question you've probably already lost.
Moving Day – Charmingly awesome (in the both senses of the word). A young girl moves into a beautiful country house estate only to have some unexpected fairy guests at her first tea party. Before you know it there's a flamethrower involved. 'nuff said.
Library of Dust – SIFF award winning film that recounts the discovery of thousands of corroding copper urns at an Oregon State psychiatric hospital containing the cremated remains of former patients. It's an unusual sounding documentary, but one you won't soon forget. Initially I wasn't that intrigued by the description but turned out to be a very interesting documentary piece.
We Are What We Drink – a hilarious little short which while set in the UK seems to be perfect for Seattle. A series of customers are rapidly reduced typecast via their order by the most passive aggressive barista you've ever met. I challenge you not to hear her call a "short fat bald with a small prick" next time you're buying a coffee
Waiting for Gorgo – is just one of those shorts that I really, really dug from the moment it started. It presents a dialog rich discovery by an auditor of two elderly employees of the British ministry of defense in a long forgotten department. The pair may or may not be society's final defense against the next monster driven apocalypse.
Steve – starring Keira Knightley and Colin Firth bring a bit of star power to the proceedings. Personally I don't think it's as strong as the others above, but I do like Knightley and Firth.
Super. Full from India is a nice treat, It's a a tale about a gas station attendant who promises his wife a birthday dinner at the luxury hotel next door. Ending in a way that's all too personally familiar to me from such aspirational meals.
Remember … I'm really only just scratching the surface here – lots more fun stuff. And remember these are shorts, the cinematic equivalent to Seattle's weather. If you don't like one just wait another 15 minutes and you'll likely get to try something else.