There's a ton of awesome stuff happening in Seattle today, tomorrow and Sunday—so rather than pick just 3 films to recommend, I put together a master list of everything I'd do if I had the time and money.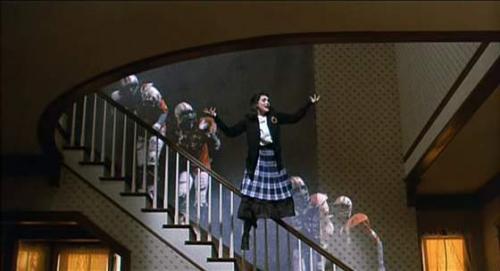 FILM
Starting on Sunday, Central Cinema is showing two of my favorite Halloween-y films: Beetlejuice and Poltergeist! NWFF is showing some great cinema this weekend also—the haunting documentary I Am Secretly An Important Man, and the slick Hong Kong action flick Vengeance. I heartily recommend both, but they're so different, it'll obviously depend on what kind of mood you're in.
THEATER
Evil Dead: The Musical continues its strong run this weekend (they've extended shows out until November 20th) over at Arts West, but make sure you get your tickets ASAP. Everytime I try to pick a time to go, I get a "sold out" message, which makes me have sad face.
OTHER GEEKERY
The EMP/SFM is showing off Battlestar Galactica props (including full-size spaceships!!!), costumes and more from both the original 1978 series, which I was a HUGE fan of, and the newer 2003 incarnation that has like 1 bazillion fans. Battlestar Gallactica: The Exhibition officially opens Saturday, 10/23—but there is a preview tonight at 7pm for members.
And over at the Pacific Science Center, they're preparing for a massive Harry Potter exhibit with costumes and props like HP's iconic wand and eyeglasses, Gryffindor school uniforms, the giant SPIDER, and lots of interactive stuff fit for magic-obsessed muggles. Harry Potter: The Exhibition opens Saturday, 10/23 and runs through January 30, 2011.