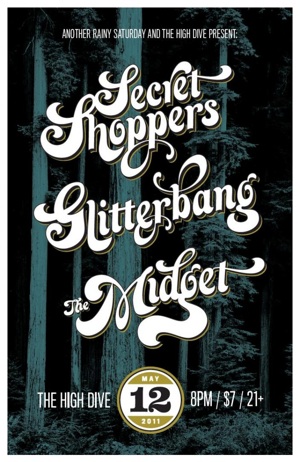 Our own (previously imaginary) Chris Burlingame has been rockin' Seattle's journalistic world with his poptastic site Another Rainy Saturday, and we're pleased as punch that he's put together a second show!
Tonight's High Dive lineup is made up of three bands that sold me on first listen, and were clearly made to complement each other: Secret Shoppers has a synth-heavy retro 80s sound that I love, The Midget does catchy electro pop with sweet vocals, and Glitterbang has got some SOUL going on amongst sway-worthy, bounce-inducing beats and sexy, throaty crooning.
I know, I know. BUT THE SUN IS OUT, you say. It's totally cool. Doors don't open 'til 8, so you have plenty of time to prefunk on a sunny patio (I hear Nectar has a great happy hour!), and then head on over to the HD get your groove on.
The deets:
Another Rainy Saturday and the High Dive Present:
Secret Shoppers
Glitterbang
The Midget
Thursday, 5/12
Doors @8, $7, 21+