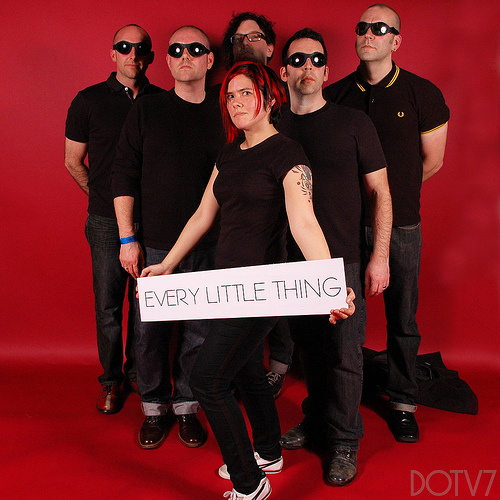 Lesli Wood (of The Redwood Plan) with Jupe Jupe last year at DOTV7.
Photo by: Ben Haley
Every year I tell you guys to get tickets to Jenny George's annual Dancing on the Valentine benefit show, and every year you listen to me, so I figure there's no reason to stop now! As previously mentioned, this year's show theme is A Cure for Leukemia – featuring local bands covering songs by The Cure, with all proceeds from tickets and raffles going to The Leukemia and Lymphoma Society. Jenny drops the grand total off at their door each year on her birthday, and it's truly a thing of joy to watch. Last year we raised a total of $7, 714.83, and this year they're gunning for at least $10,000 with a bigger venue at Neumos, and an online art auction that's will run through the weekend. (PSST: There's still a chance to bid on some amazing pieces and get them for an awesome price!!!).
In addition to the all the kick-ass music, Ben Haley's famous photo booth, tunes by DJ Mike Steve, and Jenny's son Atticus making a special appearance, DOTV has teamed up with Uber to offer 50% off rides to and from the show (just enter code SEADOTV before requesting a car on your Uber app!), and partnered with both KEXP and CityArts Magazine for some much-appreciated support!
Dancing on the Valentine: A Cure for Leukemia is THIS Saturday! Doors at 8pm, tix $15, 21+ at Neumos. Get tickets now at Sonic Boom, or online here. This show has sold out the past 3 years! So DO NOT wait. To entice you further, I've included a breakdown of the bands playing this year after the jump – along with a list of the raffles we're going to bundle up for the. best. raffle. prizes. EVER.
Who's going to join me for some Hot Hot Hot times on Saturday!?!?!
The amazing bands playing DOTV this year (we don't reveal the tunes they've each picked so it's a surpries as the night unfolds!) are:
Lesli Wood (of The Redwood Plan) backed by Jupe Jupe
{BONUS: The Redwood Plan's Green Light Go CD release show is on 2/15 at Neumos w/Head Like A Kite, Chaos Chaos, and Vox Mod!!}
Adra Boo (from Fly Moon Royalty)
Daniel G. Harmann and The Trouble Starts
RAFFLE PRIZES
Hattie's Hat Gift Certificates
High Maintenance Skincare: Gift Certificate for a facial from Mericke Kohler
Hoodie from Spider Baby Hoodies and Tees
$35 Rain City Video Gift Certificate
Two $50 Volterra Gift Certificates
SEVEN the Salon Gift Certificate and hair products
$100 Gift Certificate to Fancy
$40 Gift Certificate to Ha! in Fremont
Two $25 Gift Cards to Ohana
Three T-Shirts from Wounded Apparel
$100 Gift Certificate to the Baltic Room
$25 Gift Certificate to Queen City
$50 Gift Certificate to Belltown Pizza
Two $17.99 Top Pot Gift Cards
Photograph from Remote Luxury
Hair Cut Cards from Rudy's Barbershop ($70 total value)
$30 Gift Card to Zeitgeist
Eight $25 Gift Cards to Green Leaf
$100 Gift Certificate to Wasabi Bistro
70 minute Massage Certificate to Helix ($85 value)
Two 1-hour Gift Certificates to Under The Needle Tattoo
Two $25 Gift Cards to Whisky Bar
KEXP package: KEXP t-shirt, Live at KEXP Volume 8, Certificate good for a tour of KEXP, stickers and buttons
Emerald City Orchids: An orchid arrangement.
ARAMARK Parks and Destinations: A Cure t-shirt
Casey Brookbush: Painting of PJ Harvey
$100 Gift Certificate to Buckleys
A Vain Salon gift basket