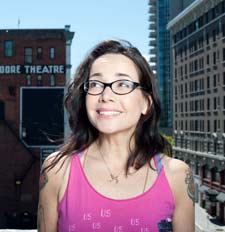 HOLD UP. Miss Janeane Garofalo is coming to The Neptune Thursday night and I didn't know until NOW? I am failing as a super-fan.
I fell for Janeane in the 90s during her heyday — loving her clever sarcasm to death right along with her blunt bangs, long dark hair, and quirky vintage style (best dance ever in Realty Bites. EVER). When Barbara Walters interviewed her, she said that Garofalo steals every movie scene she's in, and she's not lying. I own a copy of The Truth About Cats and Dogs, and I still maintain to this day that she was, is, and will always be hotter than Uma Thurman. But enough about my JG lust — let's talk stand-up.
This girl is funny. And I say that as someone who generally doesn't dig on stand-up. But I have a good feeling about this, you guys. Garofalo's got serious chops, and digging around on YouTube tells me she's just as awesome as ever. So I'll be blowing drinks out of my nose near the front of the stage this week. Come join me!
{STG Presents Janeane Garofalo at The Neptune | Thursday, April 11 | Doors @ 7, Show @ 8 | All Ages, Bar w/I.D. | $22.50 adv, $25 day of}